Touch Of Nature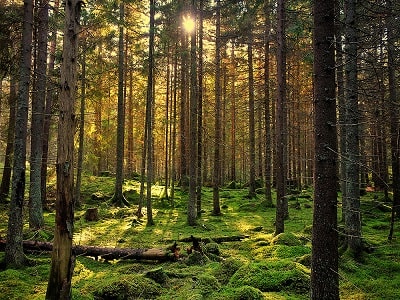 The need to get in touch with Nature seems as natural as it gets, but some people won't be so excited about the idea and prefer to spend time in the cozy atmosphere of their concrete home. When we think about astrology behind this choice, we can see that our contact with the Universe comes through our contact with Nature, and our openness to it is shown through Saturn and Mars, our unconscious gateways to the unseen – one of them our boundary towards cosmos, and the other our energetic connection to the center of the Earth. Those who choose to stay defended by their walls from the overflowing essence of life in the forest have an important task with ancestors to resolve and typically fear that they aren't able to handle rough reality with their fragile inner being. The big city and our sterile apartment is the place of security and human progress, but also lack of contact and the essence of loneliness if we aren't a part of living, breathing, smelling, buzzing and realistic cycle of life that awakens our physiology and makes us strong.
Identification with Life

All processes around us have their start and their end, just as our physical existence does. There is no overthinking or special beliefs in the lifespan of a tree that gathers food from both its roots and its highest leaves. Many breathing and meditation techniques remind us to identify with trees, allowing roots to connect us with our ancestors and opening ourselves towards faith and the bright light coming from above. It is the contact of the Divine with the materialistic, and as such, serves to align and bring order into all possible inner conflicts and oppositions that are meant to coexist and work together for our own growth. When our spiritual Self, shown by Saturn, is lifted high enough, it can work with the physical world we are set in, Mars, to provide true food for the core of our personality as we embark on the mission of our Soul – shown by the Moon. When surrounded by the vast reality of Nature on our planet, we breathe openly, as our heart expands to take in the support that can be found nowhere else.
Answers We Seek
Spirituality is discussed in an endless loop, spinning from God to the Earth, to human contact, animal guides and back, but the unity and simplicity of just one tree might be exactly what some of us seek. If all religious systems and philosophies came down to one sole truth, what if it can be found within the idea of a cycle, the unifying presence of the animal world, the world of plants and the position of Earth in our Solar system and the vast Universe we cannot yet grasp? If all of our answers are really found within, won't we profit most if we turn off the television and all outer influences, get isolated, and find our touch with the body where the logical place of living organisms helps us to do so. Breathing should connect with strength of muscles, just as the light of the sun is to connect with minerals of the Earth to create oxygen. When we take this step back, see the founding elements of all those civilized movements of humankind represented by Uranus, we see the actual condition of our body and what it can face in the real world, no matter the type of home in which we live.
It always seems to be a good time to be that crazy lady or man who speaks with the tree in our park, as the tree might know for a fact all those things that slip our mind in the loud network of relationships, toxins and civilization we rush through every day. So go out, breathe in, breathe out, and see how everything seems easier to face when we have a moment to reconnect with Mother Earth in its incredibly complex core and mental simplicity. It is wise to open gates guarded by Saturn and breathe in the essence of Neptune in the vast space of Earth's magic that is surrounding us every day. This is where essential faith can be restored.