10/18 Birthday - Zodiac Information
October 18th Zodiac
Date: October 18th
Zodiac Sign: Libra
Color: Venetian Red
In One Word: Energy
Shape: Arrow
Strength: Energetic
Weakness: Self-Restrictive
Most Compatible With: aries

October 18th is a date that might be considered as preparation for the month of Scorpio that is to follow, and it is highly energetic and filled with matters of self-control. Those born at this time have a task to learn how to control and productively use their high levels of life force, and every rough restriction could lead them into some depressive states or lethargic attitudes that don't really get them far.
October 18th Horoscope
SUN – MARS – SUN – PLUTO
Control is the main issue in lives of those born on October 18th, as it is obviously a time of rough, raw energies that need to be cultivated and used for greater balance. The position of Mars between two suns may be truly demanding for someone with their Sun in Libra, in search for tact and harmony in relationships they create. It is truly important that they find a way to get the excess of energy out of their system, so they can cleanse their mind and use the strength they have been blessed with. Driven far, their ambition is to be respected, and they need a lot of confidence to push their ideas through with openness for their partner and other people in their life.
The second planetary row speaks of an intense change of personality and their true identity, as if the shield needs to be torn down so they can shine as their real selves. They will inevitably go though deep and thorough changes in their life, until they learn who they really are and what they want out of circumstances that seem to limit them.
Love and Emotions
Passionate and warm, their sexuality is an extremely important issue, and might be suppressed due to outer influences and common beliefs. They need a partner who will understand their limitations and tenderly allow them to break the rules, so they can relax and set free, enjoying their interaction to the fullest. Although the planetary row for October 18th doesn't exactly speak of a frail emotional nature, it is a challenge here to remain gentle no matter the challenge, so that their heart is properly approached, and listened to.
They might be prone to short-term relationships in their youth, until they gather enough life experience to understand fully what they want out of any romance. As they mature and start handling their energies in a fine balance, they become wonderful partners to those willing to give them freedom to bring innovations and changes into their shared world. They are to pay attention not to get stuck in any ego battles with those they fall in love with, so the energy can flow, and they can grow along with their partner until mutual understanding is deepened.
Purpose
On the search for self-recognition, Libras born on October 18th are to find their center of personality and hold on to it no matter what. Life teaches them that each situation has only one truth to it, and while relationships with others might taint the image, they need to put their own inner child above all matters of others. Their priorities need to be brought to order so they can become creative, joyful individuals who make something out of the life force they've been given.
What They Excel In
A Libra born on October 18th excels in sports, active work and routines that require stamina and innovation. They might be good researchers and go into detailed analysis, but they need a lot of patience to hold on to solid relationships they rely on in any long-term project. Able to cut dysfunctional issues and not really focused on fixing what is broken, they make very good managers and leaders that know their path forwards and aren't afraid to give up on less relevant issues along the way.
October 18th Birthday Gift
While they enjoy sparkly and aesthetic trinkets like all Libra representatives, those born on October 18th are a bit more productive and focused on their everyday activities. Their birthday gift should be in tune with what makes them calm, so consider sneakers or sporting equipment, plants for their living room, or anything in a balanced red tone. They will appreciate a fancy pocket knife or training in archery and getting them in touch with nature is always a good choice.
Positive Traits for October 18th Born
Innovative, focused and strong, they are ones to lead the way, make the first step, and be a pillar of support for all those who are insecure or unstable. As they learn from their own insecurities and change, they easily help others make their own changes in search for light.
Negative Traits for October 18th Born
Static, repressed and highly frustrated, their anger could bubble up if they don't express their needs in the right moment, and they become destructive towards themselves and other people.
Healing Crystal
Bloodstone, also called heliotrope is a powerful stone to bring courage and comfort to those born on October 18th. Giving them a stronger sense of determination and helping to regain personal power in relationships that are a bit tense or overflowing, this is a crystal of support for manifestation and creative expression. It is a blood cleanser and purifier, aligning one's convictions with actual possibilities and grounding them so they can live in the moment and use their intense energy to make progress.
Sabian Symbol
The Sabian symbol for Libra representatives born on October 18th in every year:
"The Sight of an Autumn Leaf Brings to a Pilgrim the Sudden Revelation of the Mystery of Life and Death"
Those born on this date find the greatest significance and symbolism in little things, using their depth to understand processes and cycles of life when they aren't spinning in a circle of inadequacy. They obviously have a task to be on the path of discovery through earthly matters, through physiology, Nature and their own body, so they can understand how their fears limit their actions and what they need to do to make all the right, bold steps forwards.
Famous Birthdays on 18th of October
In 1926 Chuck Berry was born, an American singer, guitarist and songwriter, known as one of the pioneers of rock and roll music. Before starting his musical career, he was arrested for armed robbery and spent a couple of years in reformatory.
In 1939 Lee Harvey Oswald was born, an American Marxist, former U. S. Marine and the assassin who killed John F. Kennedy. A psychiatric assessment at a juvenile reformatory described him as immersed in a vivid fantasy life that turns around the topics of omnipotence and power, through which he tries to compensate for his frustrations.
In 1952 Chuck Lorre was born, an American director, screenwriter and producer, also called the "King of Sitcoms" as he created sitcoms Dharma & Greg, Two and a Half Men, The Big Bang Theory, etc. He stated that during his two years in college, he "majored in rock 'n' roll and minored in LSD". He changed his last name because of insults from his mother.
Important Historical Events on 18th of October
1851 – The first issue of Moby-Dick named The Whale.
1867 – Alaska is bought by the U. S. from Russia for $7.2 million.
1929 – The Supreme Court of Canada is overruled in Edwards vs. Canada when it is declared that women are considered "Persons" under Canadian law.
1945 – Atomic spies give plans for the American Nagasaki bomb to the Soviet nuclear program.
1951 – The first modern music studio called The Studio for Electronic Music is established in Cologne.
1954 – The first transistor radio is announced by Texas Instruments.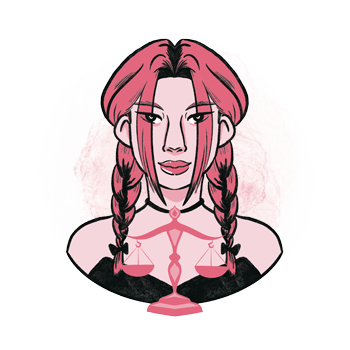 Additional Information
Libra - traits, personality, dates, characteristics and astrological sign information.
Libra man - information and insights on the Libra man.
Libra woman - information and insights on the Libra woman.
Libra compatibility - the compatibility of Libra with the other astrological signs in love, sex, relationships and life.
Libra history - the history of Libra and the stories behind it.
Libra symbol - images and interpretations of the Libra symbol and ruler.
Zodiac Calendar - Discover what your date of birth tells about your character, motivation and purpose in life.