02/28 Birthday - Zodiac Information
February 28th Zodiac
Date: February 28th
Zodiac Sign: Pisces
Color: Baker-Miller Pink
In One Word: Piercing
Shape: Arrow Pointed Upwards
Strength: Aiming High
Weakness: Rough
Most Compatible With: Scorpio

Some consider the 28th to be the end of February, while others see what hides beyond it, and although probability makes it stand for the end of the road, it simply isn't. Apart from usual interpretation for numeral archetypes in this date, we need to keep in mind that it holds the story of the afterlife and things that can be seen even after the end of anything, including life itself.
February 28th Horoscope
MOON – MARS – (Pluto) – MOON
Among lessons of the Moon learnt in the month of February, this one should definitely provide a person with fine grounding and something to aim for, achieving greatness. This is a date when two unconnectable things will connect, anger with acceptance and animalistic cravings with love. It is the magic of passion and emotional acceptance that saves individuals born on the 28th and before they discover where their anger lies, they will simply keep on summoning experiences their heart isn't ready to absorb. Pieces of their soul will usually be scattered throughout the past and their intent to move forwards will have to be initiated by chasing away some ghosts to begin with.
A bit complicated in its expression, this is a date that leads us to numbers 1 and 2 in combination as soon as we drift away from our primal planetary row. This speaks of the connection of the Sun and the Moon, and in general of the ego, strength of will and confidence, with matters of the heart and passive, emotional world. This is the primal relationship of parents we all carry within, standing as a turning point in their path towards the mission and truth they seek.
Love and Emotions
Emotional world of a person born on February 28th isn't a peaceful place to reside in. Just as much as their predecessors are stressed, they will be pushy and instinctive in the oddest of times and situations. Their emotional world needs to be nurtured and cherished, or their intimate life becomes a series of hurtful experiences that make them angry. Sexuality plays a big part of each bond they form in this lifetime, and they will find attraction to be more of a curse than a guiding light in many cases. Still, if they don't follow through, frustration will grow, and aggression will manifest in the strangest of ways and in sensitive relationships.
They need a partner who will constantly keep them on their toes, but still love them unconditionally, or they will simply get bored. Conflict must become a natural part of their routine. Still, it needs to stay constructive and truly lifechanging or it simply joins the overall frustration driven from discontent and lack of initiative.
Purpose
As time goes by, a person born on February 28th usually turns into quite a philosopher and teacher. Their shy nature doesn't seem to be made for performances, but as soon as they realize who they really are and which direction in life inspires them and makes them great, they will shake off any insecurities. They need to feel that things have meaning and serve something in the future, or they won't hold on the them. Their purpose seems to be to determine if certain emotions have a purpose of their own, and to teach others about what they love.
What They Excel In
A person born on the 28th of February excels in everything that needs to be done fast, but also needs to be seen for who they are by their superiors to not be exploited. They will build intimacy quickly and burn out just as fast, learning about their limitations all the time. Their main fields of interest need to be nurtured on a daily basis through sports and exercise, so they can truly shine and be magnificent in matters of teaching, philosophy, higher education, travel, and spreading of optimism, faith, or religion.
February 28th Birthday Gift
A birthday gift for a person born on this date should bring sensitivity to something sharp or rough. They will enjoy a well-written sarcastic book, just like they will find unbelievable uses for a keychain swiss knife or a foldable toothpick. However, their heart is more sensitive than it might seem, and they will always enjoy a romantic, loving gift, especially if they can treasure it and keep it safe on their shelf for years to come.
Positive Traits for February 28th Born
Fast, penetrative, focused, and emotionally strong, these individuals don't even know what they are capable of. Well-guarded and protective, they will give their life for people they love, nurturing deep faith in the future that releases them of fear.
Negative Traits for February 28th Born
Stubborn in defending attitudes when they are wrong, rebels without a cause, they are angry, jealous and vindictive, often not seeing the truth in other people until they see their own inner ghosts.
Healing Crystal
Rubellite, or pink tourmaline, is a stone that helps individuals born on February 28th to find grounding while holding on to awareness of Universal Love. It is a stone that connects one's heart chakra to planet Earth, resonating with the root chakra as well, and gives strength to the heart while pouring tenderness into instinctive deeds. It is a stone of attraction and love, there to teach about the power of emotion. If the world seems like a rough place to be in, rubellite helps discover inner strengths to face its challenges.
Sabian Symbol
The Sabian symbol for Pisces representatives born on February 28th of a leap year and a year preceding it:
"A Jockey Spurs His Horse, Intent on Outdistancing His Rivals"
The Sabian symbol for Pisces representatives born on February 28th of two years following a leap year:
"An Aviator Pursues His Journey, Flying Through Ground-Obscuring Clouds"
We can see both the element of competition and bravery needed to overcome the uncertainty in these symbols, but they are truly hard to combine. Interestingly, this entire date is hard to combine in its inner manifestations, so two different symbols shouldn't surprise us that much. In essence, we need to realize that both of these symbols carry the message of going over something, or through a challenge to come out a winner. This will affect individuals born at this time to constantly compete to overcome difficulties and challenges, comparing themselves with others and flying back and forth until they finally break the barrier of foggy essence of their parents' relationship. These are symbols of great distances, and if something is to unify their internal Self, it is the symbolism of Jupiter, with all its foreign travels, distant teachings, and perspective changes.
Famous Birthdays on 28th of February
In 1930 Leon Cooper was born, an American physicist and academic who received a Nobel Prize for developing the BCS theory of superconductivity. A man with a sharp mind who found his purpose in the love of science and teaching.
In 1944 Kelly Bishop was born, an American actress and dancer, who did become famous as a dancer and spent her childhood and youth learning ballet. Still, the most important roles for her career seem to be those of a mother, specifically a mother that has a hard time understanding her daughter's world and boundaries in the series Gilmore Girls.
In 1988 Markéta Irglová was born, a Czech singer and songwriter, the winner of the Academy Award for the Best Original Song for "Falling Slowly", co-written with Glen Hansard. Her childhood nicknames speak well of her planetary row, meaning "Defender who is always strong" and a "Strong Eagle".
Important Historical Events on 28th of February
1700 – Today is followed by March 1 in Sweden, thus creating the Swedish calendar.
1827 – The Baltimore and Ohio Railroad is incorporated, becoming the first railroad in America offering commercial transportation of both people and freight.
1885 – The American Telephone and Telegraph Company is incorporated in New York as the subsidiary of American Bell Telephone.
1935 – DuPont scientist Wallace Carothers (born on April 27th) invents nylon.
1954 – The first color television sets using the NTSC standard are offered for sale to the general public.
2013 – Pope Benedict XVI (born April 16th) resigns as the pope of the Catholic Church, becoming the first pope to do so since 1415.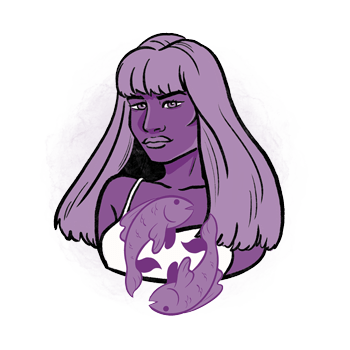 Additional Information
Pisces - traits, personality, dates, characteristics and astrological sign information.
Pisces man - information and insights on the Pisces man.
Pisces woman - information and insights on the Pisces woman.
Pisces compatibility - the compatibility of Pisces with the other astrological signs in love, sex, relationships and life.
Pisces history - the history of Pisces and the stories behind it.
Pisces symbol - images and interpretations of the Pisces symbol and ruler.
Zodiac Calendar - Discover what your date of birth tells about your character, motivation and purpose in life.