02/05 Birthday - Zodiac Information
February 5th Zodiac
Date: February 5th
Zodiac Sign: Aquarius
Color: Aquamarine
In One Word: Word of the Day: Intelligence
Shape: Semicircle
Strength: Knowledge
Weakness: Rational
Most Compatible With: Aries

As if the date to circle a whole while there isn't a whole to shape, this is somewhat a strange time in February when all meaning seems to be somewhere ahead of the road, and information can be spread to infinity. This entire date is marked by communication and movement, quick and personal, with no intent to slow down or take too much responsibility along the way.
February 5th Horoscope
(Pluto) – MERCURY – (Pluto) – MOON
As with all combinations of Mercury with the Moon, this is a day that speaks of a subtle connection of mind and heart. On their search for intellectual dominance, the Universal thought, and the field of ideas, Aquarius representatives born on the 5th of February will discover that everything they need to know already hides in their heart. Information will be lost and found, and their memories their most useful tool for self-discovery. It is important that they communicate intimately and without boundaries with people around them, so they can build a safe environment, listen and be heard.
Love and Emotions
The story of February 5th isn't necessarily a love story in its primal manifestation. Usually these individuals think about emotions too much to just sink in, guided by common sense and their brilliant minds. When they are stressed about relationships in their lives and have some difficult role models in their parents, they can be quite distant from the idea of love with another human being, and turn to idealism of one divine love for everyone, to support their humanitarian inner strivings.
As time goes by and they slowly start to live the nature of a true Aquarius, they will open their hearts for the world bit by bit. In many cases, they meet someone when they get older or when they have already made vast changes in their lives that separate them from the family tree and the past they have been tied by. Still, their greatest inspiration seems to be bound in the sense of freedom, and they need a partner to give them just that.
Purpose
Besides the need to find oneness and resolve the opposition they carry within, people born on the 5th of February really have a task to unveil the mysteries of Aquarius and find things to enlighten them, stress them out, and make them question everything they were ever thinking. Their purpose is to do the same for others, and they will often turn to Astrology or Numerology in the attempt to discover the language of symbolism they can relate to. As soon as they find enough compassion and tenderness in their heart, they absorb the strangest knowledge and information from the "upper spheres" and serve the rest of us as guidance towards enlightenment.
What They Excel In
A typical Aquarius representative, each person born on the 5th of February has a brain to support them in whatever they choose to do. They will excel as scientists, researchers, astrologers, pilots and engineers, and express well through spoken and written word. Learning through life and with the flow of it, they don't need much education to find use in everything they stumble upon. It is their wit and fast, curious mind that guides the way. If they discover their talents soon enough, their search for freedom will be much easier. Still, it is never too late for them to follow their inspiration.
February 5th Birthday Gift
Individuals born on this date will enjoy a gift they can read or work with, something they can touch, bend and write on. All sorts of electronic gadgets will intrigue them, so go with one they don't have yet and it will keep them busy for weeks. They will enjoy mind games, puzzles and all sorts of video games, for as long as they aren't too conservative or repetitive and have enough speed to keep them on edge. In general, it is easier to satisfy their curiosity than their emotional needs in just one day.
Positive Traits for February 5th Born
Intellectually superior, innovative and often brilliant, these individuals shine in the strangest of circumstances and situations. Excellent friends, orators, always on the move and ready to surprise you and sweep you off your feet.
Negative Traits for February 5th Born
Unstable and unreliable, too detached and far from the ground, they can become too stressed out, negative, and aggressive to people in their surroundings.
Healing Crystal
The stone of perfect color and characteristics for people born on the 5th of February is aquamarine. This is a crystal in strong connection with the throat chakra and Mercury, and it will help them express their true Self while still in touch with their divine purpose. This stone resonates with the ocean and helps one connect with the nature spirits of the sea, and with it all waters influenced and seen through the Moon. It is a stone to aid in connecting the brain with the heart, to develop awareness of true emotional challenges, finding a way to talk about them and find resolution.
Sabian Symbol
The Sabian symbol for Aquarius representatives born on February 5th of a leap year and two years preceding it:
"A Big Businessman at His Desk"
The Sabian symbol for Aquarius representatives born on February 5th of a year following a leap year:
"A Watchdog Stands Guard, Protecting His Master and His Possessions"
Sabian symbols for February 5th speak of possessions one has in the material world. Although protection given by a watchdog can be applied to a number of things in lives of these individuals, in combination with the first symbol it will often speak of one's need to protect their job and their livelihood. These symbols put a powerful focus on the material world and their animalistic need to protect their integrity and everything they have. Liberation of such individuals comes only when they find powerful grounding and become aware of their human, instinctive needs.
Famous Birthdays on 5th of February
In 1948 Barbara Hershey was born, an American actress with a reputation established early in her career that she was a "hippie", which led to a conflict of her personal life and acting goals. Her relationships were ridiculed and she was a subject of gossip, until she finally started keeping her personal life – private.
In 1964 Laura Linney was born, an American actress known as a three-time Academy Award nominee, starred in Wild Iris, Frasier and the show The Big C. She received an honorary Doctor of Fine Arts degree from Juilliard in 2009.
In 1969 Bobby Brown was born, an American singer, songwriter, rapper, dancer and actor, best known as the husband of late Whitney Houston. Throughout their marriage, they went through periods of infidelity, domestic violence and drug use, and were satirized as abusive drug addicts.
Important Historical Events on 5th of February
1852 – One of the oldest and largest museums ever made The New Hermitage Museum in Russia, is open to the public.
1869 – "Welcome Stranger", the largest alluvial gold nugget ever found is discovered in Australia.
1885 – King Leopold II of Belgium (born on April 9th) establishes Congo as one of his personal possessions.
1909 – Bakelite, the world's first synthetic plastic, is announced to be created by Belgian chemist Leo Baekeland (born on November 14th).
1919 – United Artists are launched by Charlie Chaplin (born on April 16th), Mary Pickford (born on April 8th), Douglas Fairbanks (born on May 23rd), and D. W. Griffith (born on January 22nd).
1971 – Astronauts in the Apollo 14 mission land on the surface of the Moon.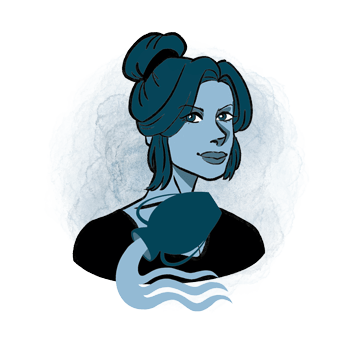 Additional Information
Aquarius - traits, personality, dates, characteristics and astrological sign information.
Aquarius man - information and insights on the Aquarius man.
Aquarius woman - information and insights on the Aquarius woman.
Aquarius compatibility - the compatibility of Aquarius with the other astrological signs in love, sex, relationships and life.
Aquarius history - the history of Aquarius and the stories behind it.
Aquarius symbol - images and interpretations of the Aquarius symbol and ruler.
Zodiac Calendar - Discover what your date of birth tells about your character, motivation and purpose in life.