06/10 Birthday - Zodiac Information
June 10th Zodiac
Date: June 10th
Zodiac Sign: Gemini
Color: Bittersweet
In One Word: Attraction
Shape: Dot
Strength: Ready to Change
Weakness: Dark
Most Compatible With: Sagittarius

It is June 10th that gives us the secret of alchemy itself, turning creative efforts into pure gold in all its value and bright light. The point of letting go is set here to show the way towards a tunnel, a curve, and a shady dark place where the ego goes to die, so that true love can grow. Each person born on this date has to lose themselves in order to find the relationship that will satisfy them and make them feel whole.
June 10th Horoscope
SUN – PLUTO – (Pluto) – VENUS
The causal nature of the respect one has of themselves and their self-worth is seen in this row, for the Sun needs to shift and change to get to touch Venus. Although there is sexual tension in planetary alignment of the 10th of June, people born at this time are typically highly aware and on their search for answers. Researchers and archaeologists, those who dig through the past to see what is truly valuable in life, they could get stuck in patterns their ancestors created maybe even centuries ago, unable to let go to the flow of joyous activities, satisfaction and love.
Love and Emotions
Learning to listen to their heart and set free from expectations from their authorities and the environment, individuals born on June 10th might find themselves in relationships that only serve to show them for something they are not. In this case, they will breakup, divorce, doing anything in their power to set free from ties that hold them tied down. The need for freedom Gemini representatives normally have may be subjected to humor from many, but in case of those born on this date, it is their primal need and the state of body, heart and mind they seek in order to stay healthy and give their lives purpose.
When they let go of the role they are used to having in their social circle, they give themselves the opportunity to attract something good into their lives. This may be the right partner, someone to love them for everything they really are, or anything they find valuable and rewarding at the point in life where the image of Self is let go of and the truth comes to rule.
Purpose
Aiming for Uranus in the long run, we see that these Gemini representatives can't stand that much oppression from Pluto in their planetary row and the darkness in their lives will push them one step higher every time it appears. They are born to evolve, grow, and find the higher truth and the higher mind, discovering innovative ways to ground their ideas day after they. When in sync with their mental supremacy, there is really nothing they cannot do, but only if their motives are in place and their love for the cause bigger than their need for status.
What They Excel In
An individual born on the 10th of June is a good researcher, someone on the chase for truths of the universe and magic they can use here on Earth. They are shape-shifters and healers, energetically superior and turned to the occult, while at the same time unable to let go of highly respected roles that give them a sense of belonging and spark their ego until they fly. From surgeons to magicians, they will excel in things that are deep and truly rewarding, saving lives of others and their own life in the process.
June 10th Birthday Gift
The gift for a person born on June 10th won't be easily picked if you stick to the role they have in your life. Dig a little deeper and see their true personality, their loving core and the passionate Self they tend to rationalize to extinction. Pick out a present that will remind them of magic of life and of their own infinite abilities. Take them parachute jumping if this is something they always wanted to do, or take them to regression therapy, a course in transcendental meditation, and really anything that will support them on their path towards inner change and relaxation.
Positive Traits for June 10th Born
Changeable, adaptable, deeper than other Gemini representatives, these individuals have a message from other worlds to share but need to let go of the image of Self in order to find love.
Negative Traits for June 10th Born
Dark and sometimes depressed, they can have a hard time letting go of anything and anyone in their life, sometimes even dismissing the idea of death itself, set in panic fear from what the future might bring.
Healing Crystal
Nuummite, also called the "Sorcerer's Stone", is one of the perfect choices for a person born on June 10th. It will aid their spiritual growth and the entire process of liberation, showing them the reality they seek and ways to obtain the image of Self they are truly on the search for. With powerful grounding and the energetic focus that may move anything in their life from a dead point, this crystal carries the powerful, mystical vibrations of planet Earth that allow complete commitment to any cause and the finding of the source of volcanic power within.
Sabian Symbol
The Sabian symbol for Gemini representatives born on June 10th in two years preceding a leap year:
"A Large Archaic Volume Reveals a Traditional Wisdom"
The Sabian symbol for Gemini representatives born on June 10th in a leap year and a year following it:
"A Modern Cafeteria Displays an Abundance of Food, Products of Various Regions"
There is a strong connection of the old with the new, of the archaic with the modern in these symbols, and this speaks of the difficult task that a person born on this date has - to connect the dualities within. On one hand, history speaks for itself and it speaks a lot, and on the other, practical solutions and their daily menu, routine, and diet depend on modern views and the world they strive towards. To connect the two, they need to stay aware of their moves and their healthy choices, caring for their body first to reach the state of consistent, balanced flow of the past they can tame and control as they want to.
Famous Birthdays on 10th of June
In 1865 Frederick Cook was born, an American physician, explorer and ethnographer noted as the man to first reach the North Pole in 1908. No matter his strong focus on creating the image and the published memoir of his expedition, a commission at the University of Copenhagen ruled that he had not proven he reached the pole.
In 1916 William Rosenberg was born, an American businessman that founded Dunkin' Donuts. We have to notice that the shape of donuts is the perfect image to stand for the planetary row on this date.
In 1922 Judy Garland was born, an American singer and actress with a four decades long career that gave her worldwide fame. Her inner battles were mostly caused by the critics who claimed she wasn't attractive enough, leading towards manipulation and problems with the image of Self she struggled with throughout her entire life.
Important Historical Events on 10th of June
671 – Water clock (clepsydra) is introduced by Emperor Tenji of Japan.
1329 – Byzantine defeat by the Ottoman Empire.
1829 – Universities of Oxford and Cambridge engage in the first boat race on the Thames in London.
1935 – The foundation of the Alcoholics Anonymous in Akron, Ohio.
2002 – The first experiment to test direct electronic communication between the nervous systems of two humans is performed by Kevin Warwick (born on February 9th).
2003 – NASA's Mars Exploration Rover mission begins as the Spirit rover is launched.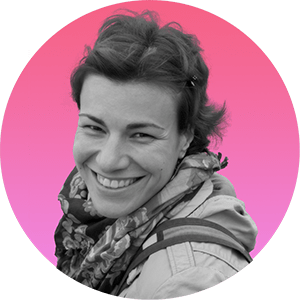 Iva Vucinic is a highly regarded professional astrologer & psychologist. Certified by the International Society for Astrological Research (ISAR CAP) and a graduate of Johannes Kepler Institute.
Iva is also an accomplished writer, with her work on astrology featured in major media outlets such as Yahoo, Daily Mail, Cosmopolitan, BuzzFeed, NBC ...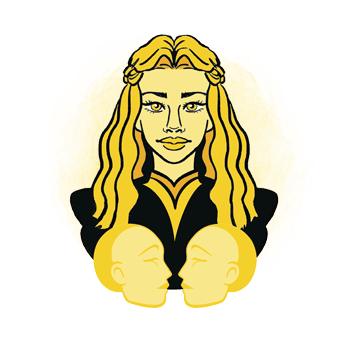 Additional Information
Gemini - traits, personality, dates, characteristics and astrological sign information.
Gemini Man - information and insights on the Gemini man.
Gemini Woman - information and insights on the Gemini woman.
Gemini Compatibility - the compatibility of Gemini with the other astrological signs in love, sex, relationships and life.
Gemini History - the history of Gemini and the stories behind it.
Gemini Symbol - images and interpretations of the Gemini symbol and ruler.
Zodiac Calendar - Discover what your date of birth tells about your character, motivation and purpose in life.