06/06 Birthday - Zodiac Information
June 6th Zodiac
Date: June 6th
Zodiac Sign: Gemini
Color: Mexican Pink
In One Word: Pleasure
Shape: Wave
Strength: Inspired
Weakness: Double Standards
Most Compatible With: Leo

The symbolism of number 6 next to another number 6 is strangely frowned upon, especially when coming in threes. Interestingly, this is the number of Venus and the female principle that we should all ultimately be grateful for, as it gives us the ability to live life in color and enjoy it with our entire being. Physical pleasures are tied to June 6th, and people born on this date have a story of love on Earth to tell.
June 6th Horoscope
(Pluto) – VENUS – (Pluto) – VENUS
Although this situation in the planetary row of June 6th might simply put an emphasis on matters of Venus, it will also speak of parallel relationships and a spicy love life that doesn't really hold much integrity until emotions are consolidated. All about balance, those born on this date will often move from one emotional extreme to the other, getting tied to some wrong partners only to "neutralize" them with "perfect ones", unready to be realistic and understand that acceptance needs to come for someone together with all their flaws and qualities.
In the next step we recognize the typical story of parenting that led to an imbalance in their world, as two lights form a lesson that a person needs to incorporate in their being. Action and reaction need to be equal in intensity, male and female principles balanced out, and the approach to other people as gentle as possible in order for their personality to truly shine.
Love and Emotions
Gemini representatives born on the 6th of June have a love story to share with us, and it is never a typical love story to begin with. Something has to be adventurous and out of the ordinary, so they can feel the rush of inspiration that pulls them in a certain direction and makes them feel alive. In love with two people at once, while deeply in love with themselves, they can make a mess out of their life if they don't balance out their own inner need to shine with the one that does things without questions asked.
Physical pleasure plays an important role in lives of people born on this date, but one that isn't purely instinctive and animalistic. They need to fulfill their desires and feel another person on an emotional level, truly enjoying touch and all their senses in order to fall in love. Until they find someone to share real intimacy with, feeding on emotions of love shared instead of simply doing what sounds right, they could have numerous relationships that don't really have that much to give. Evolving and learning about their own emotional needs, they will create an opportunity to meet someone who shares their ideals and direction in life, so they can give their whole heart away.
Purpose
What each person born on June 6th needs to find in their lifetime is focus and something to aim for. It is the purpose of all things they seek, often buried in their daily matters and romantic situations that don't allow expansion or a change in perspective. Moral compass is their imperative, not because of the guilt trip they could get into, but because it will give them a sense of dignity and focus they need in order for their life to develop instead of simply spinning in circles.
What They Excel In
Individuals born on June 6th excel in some form of art, typically music and vocal abilities that have a soft tone to them and people easily relate to. They are matchmakers and those who bring happiness to different couples, and have a talent to recognize love even before it is there, in lives of other people. Designers and creators of all sorts, with an eye for pretty things, shiny gadgets and fashion, they will feel the need to be surrounded by beauty in all possible forms.
June 6th Birthday Gift
To choose a gift for someone born on the 6th of June, you must do so with love and devotion to their valuable, most sensitive side. Give them a piece of art that resonated with your heart, something colorful, beautiful, and maybe not as practical as you would think they would prefer their present to be. Choose something of value. This doesn't mean it must be expensive, but of value to them for any reason. Good things in their life come in twos, so you can always choose something in pairs, two swans rising from the water or a shared, framed image that will always remind them of the love you have together.
Positive Traits for June 6th Born
Loving and kind, with a nice word to send everyone's way, they are pleasurable, smiling, and grateful for things that life has to offer. Their role is to give love to the world and this will gather many people around their presence.
Negative Traits for June 6th Born
Superficial and turned to simple values, they sometimes need too long to determine where they should go next. They might lack width of mind to embrace the full potential of life.
Healing Crystal
Green diopside is an excellent choice of crystal for a person born on June 6th, for it will give them a strong pull towards Mother Earth and the understanding of the natural flow of things in life. It is a harmonizing stone that helps them create contact with the breathing of the planet they live on and the Universe itself, changing their perspective and teaching them of the focus they wish to hold on to instead of scattering their energy on irrelevant issues and relationships.
Sabian Symbol
The Sabian symbol for Gemini representatives born on June 6th in two years preceding a leap year:
"Two Dutch Children Talking to Each Other, Exchanging Their Knowledge"
The Sabian symbol for Gemini representatives born on June 6th in a leap year and a year following it:
"A Woman Activist in an Emotional Speech Dramatizing Her Cause"
Control over one's words and use of them for the best possible cause are at stake here, and these symbols show that children are simply exchanging knowledge while someone with a mission dramatizes their cause. Both of these symbols represent those who are in a way oppressed and with a reason to hold together or fight for a cause, endangered by something as simple as their feminine, vulnerable nature. In touch with the sign of Gemini, there is a story to be told and an expression of a feeling that needs to happen.
Famous Birthdays on 6th of June
In 1436 Regiomontanus was born, a German astronomer, astrologer, mathematician and bishop, who invented a house system in astrology that is widely used today. Hi focused his love on science, making a large impact on the world.
In 1799 Alexander Pushkin was born, a Russian writer and poet, known as the founder of modern Russian literature. Poetically, he died for love as he defended the honor of his wife in a duel, from a man who tried to seduce her.
In 1960 Steve Vai was born, an American guitarist, singer, composer and songwriter, voted as one of the most popular guitarists who rose to fame in the 1980s. His most successful album, Passion and Warfare, was described as the richest hard rock guitar-virtuoso album of the 1980s.
Important Historical Events on 6th of June
913 – Playing polo, Emperor Alexander II dies of exhaustion.
1749 – The discovery of the Conspiracy of the Slaves in Malta.
1844 – Founding of the YMCA (Young Men's Christian Association) in London.
1844 – The first mechanically frozen ice rink is opened.
1894 – The elevated rail system in Chicago starts operating.
1933 – The opening of the first drive-in theater in New Jersey.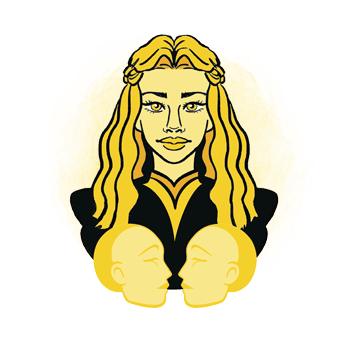 Additional Information
Gemini - traits, personality, dates, characteristics and astrological sign information.
Gemini man - information and insights on the Gemini man.
Gemini woman - information and insights on the Gemini woman.
Gemini compatibility - the compatibility of Gemini with the other astrological signs in love, sex, relationships and life.
Gemini history - the history of Gemini and the stories behind it.
Gemini symbol - images and interpretations of the Gemini symbol and ruler.
Zodiac Calendar - Discover what your date of birth tells about your character, motivation and purpose in life.