05/22 Birthday - Zodiac Information
May 22nd Zodiac
Date: May 22nd
Zodiac Sign: Gemini
Color: Lemon Chiffon
In One Word: Closeness
Shape: Two Waves
Strength: Compassion
Weakness: Vulnerable
Most Compatible With: Sagittarius

Double standards are quite normal for each person born on May 22nd, for the sign of Gemini has just begun and it has many lessons to teach them before they find the inner state of Unity. Their date is a combination of twos, something to stand for couples that socialize and communicate, and comparison between different relationships and partners. This turns their focus on other people and all sorts of social, professional and romantic bonds that carry lessons their way.
May 22nd Horoscope
MOON – MOON – (Pluto) – MERCURY
Two Moons in a planetary row always point to a state of sensitivity, but with Mercury involved in the equation, they inevitably speak of two souls, two different people, and the relationship between them. As if the masculine principle and the authority isn't even needed in their equation, those born on May 22nd have a task to discover their feelings, limits of their heart, and speak to others about their emotional states. They will find their primal family to have two forms of manifestation, usually one of them quite supportive and the other not so much. Whatever the case, the duplicity is to push them into intimate and really close bonds with other people, allowing them to show who they are and exactly how they feel in one of the ways they had the chance to grow up with.
Love and Emotions
There is always two of everything in lives of Gemini representatives born on the 22nd of May, and this speaks well of their love life too. They will either have two grand loves in their lifetime, or have parallel relationships that their heart can't decipher or choose from. They won't settle for less than absolute intimacy and need someone to openly talk to about their feelings, even when they aren't fully aware of this fact from the beginning.
Highly emotional and idealistic, it is easy for them to drift off from planet Earth and into another realm of existence, losing touch with the person standing in front of them. This can push them into idealization and shady images of people they date and choose to be with. A healthy family life will regenerate and heal them once they choose someone to be with, and they usually build a smiling and happy family around their deep emotional decisions.
Purpose
It is the main purpose in lives of those born on May 22nd to inspire. Their talents wait to be discovered, but might fail to show and support them if they approach anything in their character or their life superficially. They have a gift and they should studiously build it to be functional and alive, work on it every day, and develop their superpowers with faith and dedication to the final cause they wish to reach. These Gemini representatives shoot to become dreamers, living the ideal in the practical world.
What They Excel In
A person born on May 22nd excels in all activities that involve real estate, interior design and home decorations. They are stable, as much as someone born in their Sun sign can be, and hold on to positive feelings for a long time. It is their need to create as many happy memories as possible and this could move them from one relationship to the other too fast. Still, if their hearts are open they will excel in love, in all its glory. Good listeners and able to sense the state of heart in others, this is a talent they should build instead of running away from their sensitivity.
May 22nd Birthday Gift
To choose a birthday gift for a person born on May 22nd, we must keep in mind that they are still under the strong impression of the preceding Sun sign, the sign of Taurus. They are the link between emotion and reason and they will cherish a practical gadget for their home, a cook book that will teach them how to prepare meals they ate as a child, and a combination of fancy and new with the traditional and reminding them of their childhood. They will value a moonstone, something that will help them cleanse their inner emotional world, or a small fountain to remind them of the flow of Water they carry within.
Positive Traits for May 22nd Born
Emotional and ready to interact, open for relationships and other people and willing to communicate about issues that others don't want to come close to. They are the link between the Earth and Air, the practical and the idealistic.
Negative Traits for May 22nd Born
Turning to double standards and one of the parents for support standing opposed to the other, they carry the duality in their own heart and could turn from light into darkness in an instant.
Healing Crystal
Larimar stone is one of the best stones for someone born on the 22nd of May, mostly because of the connection with the Divine Feminine it creates through the throat chakra and the talent for communication and self-expression. Although it might stir up some pain from the past and things holding them back, this stone will help Gemini representatives born on this date to express buried feelings until they are truly resolved. This stone aids them to find a love that lasts.
Sabian Symbol
The Sabian symbol for Gemini representatives born on May 22nd of any year that isn't a leap year:
"A Glass-Bottomed Boat Reveals Undersea Wonders"
The Sabian symbol for Gemini representatives born on May 22nd of a leap year:
"Santa Claus Furtively Filling Stockings Hanging in Front of Fireplace"
Sabian symbols here both point to something wondrous happening in the world of those born on this date, but it is obviously a wonder untouchable or something that they will hardly ever see. Still, the image might be obtained with careful planning and dedication, only if one decides firmly that it is their mission in life to move on to the other side, go diving, or disguise as something they are not so they can support those who still believe in magic.
Famous Birthdays on 22nd of May
In 1783 William Sturgeon was born, an English inventor and physicist, responsible for the invention of the electromagnet and the electric motor. He is a fine example of the ability a person born on this date can have to connect the idea with reality.
In 1859 Arthur Conan Doyle was born, a British writer that is best known for his fiction novels that feature Sherlock Holmes. The curiosity he nurtured throughout his life saw its best reflection in a productive career he had.
In 1959 Morrissey (Steven Patrick) was born, an English singer and songwriter, famous for his position of a lead singer of The Smiths. A cultural icon, he also used writing to ground the ideas in his mind, and his lyrics have become the subject of academic study.
Important Historical Events on 22nd of May
760 – Halley's Comet passed the perihelion for the 14th time.
1246 – An anti-king is elected in the Kingdom of Germany.
1570 – Theatrum Orbis Terrarum, the first atlas containing 70 maps, is published.
1762 – The official completion of the Trevi Fountain in Rome, Italy.
1906 – A U. S. patent is granted to the Wright brothers for the "Flying-Machine".
1957 – Racial separation at universities is approved by the South Africa's government.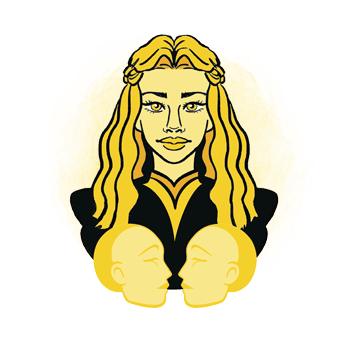 Additional Information
Gemini - traits, personality, dates, characteristics and astrological sign information.
Gemini man - information and insights on the Gemini man.
Gemini woman - information and insights on the Gemini woman.
Gemini compatibility - the compatibility of Gemini with the other astrological signs in love, sex, relationships and life.
Gemini history - the history of Gemini and the stories behind it.
Gemini symbol - images and interpretations of the Gemini symbol and ruler.
Zodiac Calendar - Discover what your date of birth tells about your character, motivation and purpose in life.