08/26 Birthday - Zodiac Information
August 26th Zodiac
Date: August 26th
Zodiac Sign: Virgo
Color: Mantis Green
In One Word: Tenderness
Shape: Crescent and a Cross Below
Strength: Guided by Emotions
Weakness: Too Shy to Interact
Most Compatible With: Pisces

A date of blessings and love, August 26th carries messages of love that are earthly and helpful to everyone. This is a time when changes are harsh, and the beauty is truly found in all those little things we enjoy every day. People born on this date need consistency of emotions and a gentle guidance to grow up into being the fragile, loving Souls they are meant to be.
August 26th Horoscope
MOON – VENUS – (Pluto) – MARS
This planetary row carries information on manifested pleasures of love in its purest form, and people born on August 26th need to follow their hurt even when they lack strength to endure. They are loving, caring and gentle, until their limits are breached and too many fences broken down. This is when they might get extremely destructive, towards themselves and others, if their ties were too intense and hold them tied instead of setting their spirit free. Their story is the story of emotion in its manifested form, and criticism won't work well for these Virgos, even when it seems only logical to be restrictive of their own needs.
The power of creation hides in their second planetary row, showing their need to make something out of love, inspired by their relationships. To paint their inner colors onto the canvas of the outer world, they will have to get out of their shell though, brave enough to present their inner being in all its authenticity and glory, accepting and nurturing both their virtues and their flaws.
Love and Emotions
There is a lot of excitement in the emotional world of those born on the 26th of August. They will gather experiences, often from afar, until they find someone able to fulfill their emotional needs and won't have trouble waiting for as long as it takes for the right person to come their way. Still, this may present an issue for it gets them stuck in platonic relationships that don't change spontaneously, and this could lead to strange situations where they seem to be alone, although they don't feel like they are.
They need to hold on to their grounding when feelings are involved to keep their relationships realistic and in tune with the beat of their heart. They need someone to inspire them and make them feel loved, and don't have trouble fitting their relationships into social norms and limitations made by their family and friends, for as long as they are truly in love. If they find a person to make them laugh no matter the difficulties, struggles and conflicts, they will remain faithfully devoted for a lifetime.
Purpose
The purpose in lives of Virgos born on August 26th is found in Uranus and its symbolism, this posing for a higher octave of their Sun's ruler, Mercury. They are to set free from restrictions of their own mind and find higher ideals, the truth that will allow them to express themselves in purity, cleansing their throat chakra and ways of verbal expression until they find the point of absolute honesty.
What They Excel In
People born on August 26th work well within a team and know how to treat people well, reading their intentions between the lines. They are good social workers and real estate agents, but typically express best through painting, music or writing. Going into details just as any Virgo, they will prefer techniques that are specific and easily separate important from unimportant matters whatever their profession. Wonderful parents, for as long as they hold on to their patience, they will have a wonderful influence on all those involved in their life.
August 26th Birthday Gift
With their Sun in Virgo in mind, when choosing a gift for a person born on August 26th, you can't simply be guided by Venus and the Moon. Although you can always bring them a piece of art, their perfectionism could easily devalue it, although they would never show their dissatisfaction. It is a lot harder to choose something for them than it seems, and safe choices include comfortable and fun bedsheets, clothing in balanced tones, and trinkets such as candles, traditional ornaments or snow globes.
Positive Traits for August 26th Born
Loving, nurturing and tender, they are fragile enough to sense other people and feel their emotions, in good times and the bad. Good friends with a loving heart, and artist that are to express their truth in any possible way.
Negative Traits for August 26th Born
Rushing forwards, trying to rely on the pace of their mind, they lose sight of their own frailty and constantly try to move against their feelings and their own better judgment.
Healing Crystal
Bronzite is a stone that works well with the sacral and heart chakras of those born on August 26th, as it stimulates feelings of joy and helps them find compassion even in the most difficult situations. It will help them to stay calm in challenging periods and situations in life, helping them not to lose their temper and their grounding. This is a also a very good crystal to cleanse their entire living or working area of negativity, as it has strong protective energy for one's outer world.
Sabian Symbol
The Sabian symbol for Virgo representatives born on August 26th:
"Two Guardian Angels"
These guardian angels represent the two loving entities in their planetary row and speak of their guidance on a much higher scale than we might anticipate. The great challenge of this time is in finding true inner faith that isn't restricted by rules that are found anywhere outside of their heart, while still managing to function within systems of the time they live in. They are to be governed by pure belief in beauties of the world, so they can share the message with the rest of human kind.
Famous Birthdays on 26th of August
In 1910 Mother Teresa was born, a Macedonian Indian nun, a missionary who won the Nobel Peace Prize in 1979. Her church recognized her as a saint and her feast day is September 5th, the anniversary of her death.
In 1966 Shirley Manson was born, a Scottish singer, songwriter and actress, the lead vocalist of the alternative rock band Garbage. Mars played a large role in her planetary row, as she was bullied in school and used to suffer from depression, body dysmorphic disorder and engaged in self-injury.
In 1980 Macaulay Culkin was born, an American actor, author and musician, also known as the president of Bunnyears. He rose to fame as a child actor, with the role of Kevin McCallister in the movie Home Alone.
Important Historical Events on 26th of August
1543 – The first documented navigation of the entire Amazon River.
1791 – The US patent for steamboat is granted to John Fitch (born on January 21st).
1826 – The first non-Muslim enters Timbuktu.
1920 – In the United States, women are given the right to vote.
1970 – A nationwide Women's Strike for Equality is led by a new feminist movement.
2009 – A victim of kidnapping is found alive in California, after being missing for 18 years.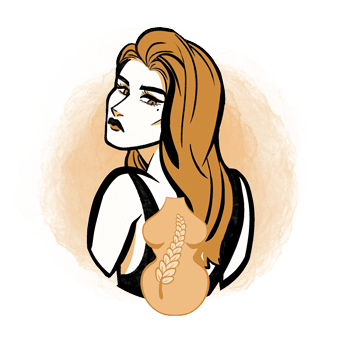 Additional Information
Virgo - traits, personality, dates, characteristics and astrological sign information.
Virgo man - information and insights on the Virgo man.
Virgo woman - information and insights on the Virgo woman.
Virgo compatibility - the compatibility of Virgo with the other astrological signs in love, sex, relationships and life.
Virgo history - the history of Virgo and the stories behind it.
Virgo symbol - images and interpretations of the Virgo symbol and ruler.
Zodiac Calendar - Discover what your date of birth tells about your character, motivation and purpose in life.