08/31 Birthday - Zodiac Information
August 31st Zodiac
Date: August 31st
Zodiac Sign: Virgo
Color: Cambridge Blue
In One Word: Aim
Shape: Arrow Pointed Upwards
Strength: Focused
Weakness: Judgmental
Most Compatible With: Pisces

The creative force of August 31st is somewhat weakened by the need of this time to bring everything to the point of perfection. High strivings and even higher expectations might trouble or reward those born on this date, serving as the measure of reality they are ready to metabolize and the truest state of their heart. It is in their power to understand where the truth lies, and they should stick to it no matter the challenges that arise.
August 31st Horoscope
JUPITER – SUN – (Pluto) – MARS
The planetary row of August 31st is a story of teaching, learning, and bravery to fight for one's beliefs. It is a time of dominance where educated people succeed in the end, standing as the separating point between those who wish to grow, and those who don't. It is important for Virgos born on this date to never forget the core of their bravery and authentic needs, for they give them the strength to endure through disappointments, wrong directions, and choices that served their purpose before satisfaction was reached.
Relating they learn from the bond their parents created will mark their lifetime with struggles or achievements, and they are to feel gratitude for the right amount of understanding and focus they got. Treasures of life they seek will be found when the fog is lifted, and they understand exactly which beliefs they are meant to pursue as personal, and which belong to someone else.
Love and Emotions
Opinionated and strong in their beliefs, they could become a bit strict when it comes to their choice of the right partner and all those moral norms that need to be met. Still, their heart is warm and wide and as they learn to embrace diversity and the wider picture of life, they will open for relationships that can be truly creative and joyful. They are big children in need of someone to play with and if they aren't too smart and serious to embrace their child within, they will have trouble forming a relationship they truly desire.
A bit stubborn and focused on future plans, they need someone to shake their world and make the impossible possible and could have stressful relationships until they learn to let go to the flow of the moment. They need flexibility and an open mind to learn from their partner and be able to truly teach them about their most authentic Self. Their needs will be met when their own desires aren't viewed as impossible and unreachable, and it is in their power to change the course of faith when they realize that it is their decision to evolve towards a relationship they wish to create.
Purpose
With Jupiter calling on them at the end of the line, it is clear that the process of learning needs to rise them to a higher plane. Often, they become educated individuals who perceive life as a journey and have enough optimism to move them forwards in the darkest of times. They are teachers and travelers of the world, packed in the force of intelligence that the sign of Virgo has to offer, and need to follow their ideals until they reach the point of manifestation in pure creativity.
What They Excel In
A person born on August 31st excels in all forms of teaching, and the more they learn from life and expand their views, the better they will get at it. They should steer clear of unsolicited advice and imposing their will on others, no matter how well they know what is real and what isn't. This will give them back their power to rise towards joyful activities with those who share their direction and a chosen path through great distances of this world and their mind.
August 31st Birthday Gift
When choosing a birthday gift for someone born on August 31st, keep in mind their childish nature even if they aren't eager to express it most of the time. Buy a game you can play together, a book of happy thoughts, or something to get their creative juices flowing. They want something to intrigue them and spark their curiosity, something that moves with the sound of music, and something to inspire them to learn a new skill.
Positive Traits for August 31st Born
Smart, focused and ready to act, they are the proactive Virgos that rarely take the back seat. Organized and wide in their opinions, their perspective might just change the world if they are open enough for much larger forces than those of our humanly bodies.
Negative Traits for August 31st Born
Picky, opinionated and stubborn, their convictions come from ego rather than what is universally true and make them weak, more passive than they are meant to be, and disgruntled for not having their expectations met.
Healing Crystal
Holly blue agate is the right choice of stone for those born on the 31st of August. It connects their need to communicate given by the Sun in Virgo with the metaphysical and the unseen, finally bringing balance to their world of feelings with their practical self. It is stone that allows one to see things just as they are, without bending the truth. It will give them strength to teach through love so they can become love, while not only doing the talking but also taking all necessary steps to practice what they preach.
Sabian Symbol
The Sabian symbol for Virgo representatives born on August 31st:
"A Five-Year-Old Child Takes a First Dancing Lesson"
This symbol stands to perfectly describe the purest need of their child within and we can see that learning plays a large part of their exciting growth. They are to identify with knowledge they receive and feel it in their heart if it triggers enough inspiration in their heart. This is the path that will lead them through talents and flaws, teaching them to understand their own Soul a bit better step by step, while having fun along the way.
Famous Birthdays on 31st of August
In 1870 Maria Montessori was born, an Italian physician and educator known for her own philosophy of education. This newfound system of beliefs came to life as she observed the group of children that were given the freedom to choose activities, which opened them for more practical work.
In 1949 Richard Gere was born, an American actor and humanitarian, known for his roles in Pretty Woman, Runaway Bride and Chicago. He attended University on a gymnastics scholarship, majoring in philosophy, but never graduated as he decided to change his direction in life to something more playful like acting.
In 1971 Chris Tucker was born, an American actor and comedian who appeared in The Fifth Element, Silver Linings Playbook and Money Talks. He is the youngest son of six children in his family and learned in childhood that humor has the power to attract attention his way.
Important Historical Events on 31st of August
1895 – Navigable balloon is patented by Ferdinand von Zeppelin (born on July 8th).
1897 – The first movie projector is patented by Thomas Edison (born on February 11th).
1920 – The broadcast of the first radio news program.
1943 – Commissioning of the first U. S. Navy ship that is named by a black person.
1962 – Trinidad and Tobago gains independence.
1997 – Diana, Princess of Whales (born on July 1st) dies in a car crash in Paris.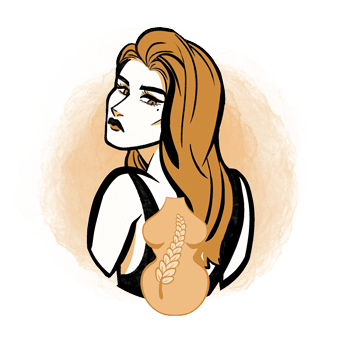 Additional Information
Virgo - traits, personality, dates, characteristics and astrological sign information.
Virgo man - information and insights on the Virgo man.
Virgo woman - information and insights on the Virgo woman.
Virgo compatibility - the compatibility of Virgo with the other astrological signs in love, sex, relationships and life.
Virgo history - the history of Virgo and the stories behind it.
Virgo symbol - images and interpretations of the Virgo symbol and ruler.
Zodiac Calendar - Discover what your date of birth tells about your character, motivation and purpose in life.