08/18 Birthday - Zodiac Information
August 18th Zodiac
Date: August 18th
Zodiac Sign: Leo
Color: Scarlet
In One Word: Victorious
Shape: Arrow
Strength: Energetic
Weakness: Angry
Most Compatible With: Sagittarius

August 18th is a date of high energies, warriors and all those innovative souls that make the first step to become new leaders for the new world. This is a time of new beginnings, everything fresh and ready to grow, and the main issue may be the destination and the aim that one sets in their path to endure through challenges and stay focused and centered throughout any ordeal.
August 18th Horoscope
SUN – MARS – (Pluto) – MARS
This is dominantly a masculine planetary row, and August 18th speaks of such a potential for action, any type of proactive approach and decisiveness to reach for certain things in life. It is typical for people born on this date to show incredible energy, strength of will, and move fiercely through life as if cutting through a piece of cake. However, challenges here may be found in loss of contact with other people and hasty decisions that cost one their position in the society.
The second row of this date speaks of a contact between the Sun and Uranus, bringing even more tension to the primal setting. While they tend to be open for people and the Universe, for communication at all levels and a mind that is hard to satisfy, they are also under a lot of pressure to be faster than they really need to be. It is important here not to forget the pace that one's emotions dictate and hold on to it when times get rough. Their almightiness can only be true if they act solely from their authentic needs and their heart.
Love and Emotions
When it comes to love, people born on the 18th of August are passionate and easily express their needs and sexuality. They will often be the ones to make the first move and win their partner's heart with a conqueror's attitude. Still, for their relationships to last in love and excitement shared, they need to connect on a deeper level than their position makes them believe is enough at first. They typically spend a large part of their life learning to slow down, listen, and sense what is going on between them and the other person, until they are truly ready to commit.
It is important that Leos born at this time don't see their partner as a trophy to hold on to. They need someone they can be with no matter their background, their finances or looks, and someone who will support them in their battles standing by their side. With such an intense energetic formation, they could be annoyed by slow people, those who push them to stop until they see the bigger picture, as well as everyone who is too weak to handle life the way they think is the only right way. If they don't embrace their own vulnerability and weaknesses to turn them into strength, they could end up in a series of relationships with such partners, spinning in the loop of hurtful conversations and pushes that they don't wish to make or suffer from another person.
Purpose
With the purpose in lives of those born on August 18th being found in the symbolism of Mars, it is clear that their fierce nature will be their priority and something to use when able, and tame when necessary. It is the impulses and instinctive strivings that need to be manifested, brought down to Earth in the here and the now, and this can only be done if their physiology is entirely satisfied and their heart free from ties of the past.
What They Excel In
Leos born on August 18th excel in sports, active jobs that don't leave them with a lot of time to think, and leading positions that help them spend the energy they carry in their heart. They need to keep their focus to become truly productive, financially and professionally and work best alone. To be a good part of any team, they need to learn to slow down enough for all relationships to be respected and brought to middle grounds that will satisfy everyone involved.
August 18th Birthday Gift
Sports equipment, tickets to a game they have an interest in, and pocket knives are a very good choice of gift for a person born on August 18th. Still, they wish someone will see their soft side and it is good to go by emotion when choosing your present, finding something that fits both sides of their personality – the visible active one, as well as the invisible passive and caring one.
Positive Traits for August 18th Born
Energetic, strong, fierce, ready to act and lead a large group of people, when well directed and with a goal to fight for, they become fearless and truthful in every single step they choose to make.
Negative Traits for August 18th Born
Unaware of their own emotional needs and with them, the needs of other people, they can get pushy and even aggressive when dealing with relationships they don't understand fully.
Healing Crystal
The right crystal for a person born on the 18th of August is alunite, for it helps their grounding and keeps them stable in the course they chose to follow. It is a stone used to balance yin and yang energies inside one's system, and it will aid their acceptance of the feminine within so they can act in sync with their heart and be able to recognize a moment when they need to wait instead of making a move.
Sabian Symbol
The Sabian symbol for Leo representatives born on August 18th in two years preceding a leap year:
"A Large Camel is Seen Crossing a Vast and Forbidden Desert"
The Sabian symbol for Leo representatives born on August 18th in a leap year and a year following it:
"After the Heavy Storm, a Rainbow"
Endurance and impacts of energetic destructive forces may be recognized in these lines, as well as a positive turn that comes when the work of those born on this date is done. They will often live stressful lives filled with challenges right until they discover what they were born to do and where the ease in talents can be found. A rainbow symbolizes a strong touch of Neptune in their story, and the faith that is to be discovered through issues that throw them from one side of life onto the other. Once they are open for the Divine, they become a beam of light for others to follow through the driest of deserts to the oasis.
Famous Birthdays on 18th of August
In 1933 Roman Polanski was born, a French Polish director, screenwriter and actor, currently a fugitive from the United States while awaiting sentencing for statutory rape. His life took a sharp turn when his wife and four friends were brutally murdered by the Manson family.
In 1936 Robert Redford was born, an American actor, director and philanthropist, declared as the "Godfather of Indie Film" and honored by President Barack Obama with a Presidential Medal of Freedom. He founded the Sundance Film Festival.
In 1952 Patrick Swayze was born, an American actor and dancer, a teen idol for his romantic roles such as that of Johnny Castle in Dirty Dancing. People magazine named him the Sexiest Man Alive in 1991.
Important Historical Events on 18th of August
1587 – The first English child is born in the Americas.
1783 – A large fireball meteor is noticed across Great Britain.
1868 – Helium is discovered by an astronomer Pierre Janssen (born on February 22nd).
1923 – The first time that women compete in the British Track & Field championships.
1938 – The Thousand Islands Bridge over the Saint Lawrence River is dedicated.
1958 – Novel Lolita is published in the U. S.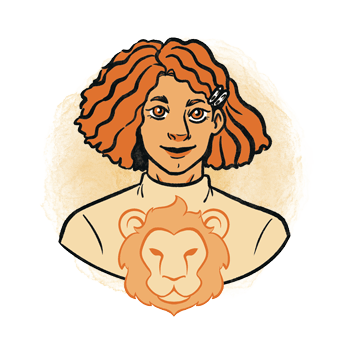 Additional Information
Leo - traits, personality, dates, characteristics and astrological sign information.
Leo man - information and insights on the Leo man.
Leo woman - information and insights on the Leo woman.
Leo compatibility - the compatibility of Leo with the other astrological signs in love, sex, relationships and life.
Leo history - the history of Leo and the stories behind it.
Leo symbol - images and interpretations of the Leo symbol and ruler.
Zodiac Calendar - Discover what your date of birth tells about your character, motivation and purpose in life.