08/14 Birthday - Zodiac Information
August 14th Zodiac
Date: August 14th
Zodiac Sign: Leo
Color: Portland Orange
In One Word: Rock
Shape: Circle
Strength: Ambitious
Weakness: Pressured
Most Compatible With: Aquarius

The resistance of August 14th to change can be strong, with the fixed quality of Leo striking in its most intense glow. Paths chosen on this day are often predestined and lead into struggles that aren't always filled with optimism and purpose guiding the way, but always productive in their final manifestation. People born at this time are ambitious, governed by structures and needs to be a part of something bigger, rational and firm in their positions and choices.
August 14th Horoscope
SUN – SATURN – (Pluto) – MARS
To balance out such powerful entities and make their lives simpler and easier to live, Leos born on the 14th of August must learn to let go. However ambitious and driven towards their goals, they get spent and need enough time to rest and analyze their position every step of the way with focus and clarity on what guides them towards their destination. They are strict but warm, ready for action and adventure, but sometimes a bit dark in their expression and ways they perceive the world around them. It is their child within that needs to be respected every time it speaks, so they can truly act like a grownup, aware of their most fragile needs.
The purpose in their doings sometimes lacks its foundation, and while they can hold on to any task until they endure, they sometimes need to realize that they don't have to. Their direction should be allowed to change so they can also change perspective and see where they're headed, understanding reasons behind the deed. When they are governed by positive and realistic expectations, they will prosper and create enough room for movement and growth that they were born to have.
Love and Emotions
Any strict rules that apply on their everyday life might be a bit harder to follow in their emotional world of relating. They are dignified and strong, often taking the role of a pillar for partners less organized, focused, or willing to take responsibility. This in fact speaks about their own troubles with the system they are a part of and breaks their defense mechanisms only to make them stronger as they see their inner truths with more clarity.
Boundaries with others often stand as the main theme that brings trouble into their heart, either too strong and defensive to be penetrated by love or allowing fluctuations that aren't healthy and drain their energy out. They should choose partners with ease and flexibility, open for changes that will come as time goes by. This will attract the right people into their life, and help them understand how well-supported they can be when in touch with their joyous, spontaneous nature.
Purpose
To cleanse their world and accept their circumstances realistically, for what they really are, people born on August 14th are to detox and cleanse their emotional worlds from ancestors that keeps them burdened. Their purpose in life is to find higher truths, rest, and get in tune with their body and its limitations, creating structure of support that will give them wings and put them on the right track.
What They Excel In
Individuals born on the 14th of August excel in statistics, math, history, and all areas that allow them to learn more about structure and integrity of the real world. They need something clean and obvious to commit to and make wonderful leaders when they are in touch with their soft side. Although they can be strict and distant from their colleagues, they will do their best to succeed as a part of a large team, often coming to leading positions as time goes by and they accept their true place among others.
August 14th Birthday Gift
However serious they might get in their strivings, Leos born on August 14th are big children in need of joyous activities. Respect this date and give meaning to the fact that it is their birthday, even if they act as if it is of no significance. Their gift should be inspiring and light, something to listen to, observe, and move with. They will appreciate a fancy peace of clothing, but it is wiser to bring them to a fun party, buy tickets for a show, and give them something to laugh about or look forward to in the future.
Positive Traits for August 14th Born
Strong, ready to achieve and work for their future, they are stable, reliable and patient with those they care for. Respectful and structured, they are the ones to succeed.
Negative Traits for August 14th Born
Dark and sometimes depressed, they get burdened by trying to achieve more than what their heart truly yearns for. When separated from their Soul's needs, they become vane and distant, focused too much on the image they wish to show, rather than what is truly rich and valuable in their world.
Healing Crystal
It is desirable for a person born on August 14th to have their own crystal, for they will find it to be truly influential on their life. Ilvaite is one of their best choices, for this stone serves to increase patience and get one in touch with the flow of time. It will give them strength to endure when things get tough, while also enhancing their creativity and ability to resolve any problem with an open mind. Grounding and stabilizing for their emotions, this stone will help them accept their physical world and circumstances served on their plate.
Sabian Symbol
The Sabian symbol for Leo representatives born on August 14th in two years preceding a leap year:
"Intoxicated Chickens Dizzily Flap their Wings Trying to Fly"
The Sabian symbol for Leo representatives born on August 14th in a leap year and a year following it:
"A Carrier Pigeon Fulfilling Its Mission"
It is obvious that the main difference between these two symbols is in the purpose and the ability of a bird to do something they are trying to. When set on the right path, and in touch with their physical reality and limitations, individuals born on this date will move for destinations that are within their reach and accomplish what they were meant to do. Their story is typically a story of setting free from toxic influences, wrongly set beliefs that keep them preoccupied and don't allow movements they truly desire to make. As restraints and ties to imposed beliefs start to wear of, they will find their way and move through life with ease of flight.
Famous Birthdays on 14th of August
In 1945 Steve Martin was born, an American actor, banjo player, screenwriter and comedian, known for his sarcastic and absurd approach to comedy. Later in life he recalled that his feelings for his father were mostly ones of hatred, for him being proud but too critical.
In 1966 Halle Berry was born, an American actress and model, as well as the Miss World United States of 1986 and the only black woman to have received the Academy Award for Best Actress. She has been estranged from her father since childhood and remembers him being extremely abusive to her mother.
In 1983 Mila Kunis was born, a Ukrainian American actress, recognized for her roles in Forgetting Sarah Marshall, Black Swan and Friends with Benefits. She moved to the US from Russia at a very young age, citing that antisemitism was one of the reasons her parents made this large change.
Important Historical Events on 14th of August
1457 – The first time that a book is printed with its date of publication.
1592 – Falkland Islands are sighted for the first time.
1791 – The Haitian revolution begins.
1893 – Motor vehicle registration is introduced for the first time in France.
1959 – The first official meeting that marks its foundation is held by the American Football League.
1975 – The longest-running ever film release is opened in London for The Rocky Horror Picture Show.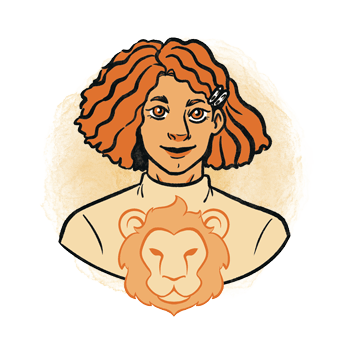 Additional Information
Leo - traits, personality, dates, characteristics and astrological sign information.
Leo man - information and insights on the Leo man.
Leo woman - information and insights on the Leo woman.
Leo compatibility - the compatibility of Leo with the other astrological signs in love, sex, relationships and life.
Leo history - the history of Leo and the stories behind it.
Leo symbol - images and interpretations of the Leo symbol and ruler.
Zodiac Calendar - Discover what your date of birth tells about your character, motivation and purpose in life.