08/19 Birthday - Zodiac Information
August 19th Zodiac
Date: August 19th
Zodiac Sign: Leo
Color: Mexican Pink
In One Word: Reconnect
Shape: Trident
Strength: Faith
Weakness: Unused Talents
Most Compatible With: Aquarius

August 19th is a date of talents, dreams, and all those unseen things that one must chase for in order to feel alive. The only way to live the full potential of their life for those born on this date, is to follow talents they've been blessed with, carrying deep faith in their abilities and potentials. This is the moment for things to dissolve so truth can be found, in the strangest of ideals and circumstances that don't seam real.
August 19th Horoscope
SUN – NEPTUNE – (Pluto) – MARS
As if their task is to connect the Divine and higher spheres with those of the real world, Leos born on August 19th often get lost only to get found, and typically wonder through life until they find a purpose to follow. Their path is hazy, their future unclear, and their ideals vulnerable to the outer world. They are to find protection and avoid getting tainted by other people's toxic circumstances, convictions and approaches. The most important answers in their life will be found within, when they start asking their heart in pure faith where the truth lies. Everything others say may be faulty and take away their energy and their drive towards their desired destiny.
The second planetary row is focused on the material world and all those things that need to be manifested here, on Earth. Their body needs special attention, and it is wise to avoid toxins and all sorts of mind-altering substances that interfere with their physiology. Psychosomatic issues serve to remind them that they are to believe in themselves and that no outer system has the greater power to heal than their inner world of faith.
Love and Emotions
Behind the mask of strength and decisiveness, August 19th hides idealists and all those Leos who are ready to fight for the highest level of commitment and closeness in any bond. While young, they could have trouble finding a partner to fit their image of perfection, leading to disappointments and strange attempts to find love where it cannot be found. For as long as they doubt their ideals and their emotions, they will strive for solitude, even if they are willfully committed to making things work with partners that seem to be the right, rational choice for them.
After they fall and pick up their pieces, mending them all together, they will regenerate from bonds that left them scarred and finally turn to something truthful and yearned by their heart. A promise of wonderland may be created in the strangest of ways, as they discover their ability to connect on planes invisible to other people. As they discover their true depth and openness, they will find themselves in that one bond that allows contact without physical touch, telepathy, and synchronicities that are no more surprising.
Purpose
With their birthday numbers combining into number 9, their leading figure that gives them a sense of purpose is Neptune. It is the ideals they chase, all those dreams that inspire them, and talents that are to be followed. They are to find higher truths, caring about their faith rather than their ego, and letting go of everything toxic and obsolete that ties them in the darkness of the past. It is a call of Divine Love, something to connect us all and be shared with the world, but only if they manage to get out of loops that make them vulnerable and compromise their boundaries and their faith in good.
What They Excel In
Individuals born on August 19th are idealists that do well in music, art, and all forms of creative expression that bring them joy. Although they easily get lost in strange choices and aren't sure of their path in life, they will settle once they find their purpose and start moving towards faith and self-belief. This makes them powerful religious leaders, healers, doctors and practitioners of alternative methods of self-help. They understand that each person in the world carries the deepest source of power in their inner world and that healing can come only when one is open to work on their own cleansing.
August 19th Birthday Gift
A good birthday gift for people born on August 19th needs to inspire, smell and feel good, evoking emotions they need to keep their focus fresh. You can choose a light perfume, something artistic that will give them a sense of beauty in the world surrounding them, or something as simple as fluorescent stars for their bedroom. Fresh sheets, a new fluffy pillow, or anything that will help them sleep, dream bigger, and believe in their own power is a good choice.
Positive Traits for August 19th Born
Idealists with a cause, they are talented and connected to the human race on a higher place. They are compassionate and a strong pillar of support for those they love unconditionally.
Negative Traits for August 19th Born
If they lose faith, they have trouble finding their place in the world and damage their aura in toxic relationships that drain their energy out. They can be dishonest, lost in words and actions, and have trouble focusing on their own priorities.
Healing Crystal
Golden rutilated quartz is a very good stone for those born on the 19th of August. It is a crystal that amplifies constructive thoughts and helps them manifest what they desire in their life, through the power of aware intention. Contact they aid between one's individuality and the Divine will bring inspiration and has the potential to last. It stands as support for finding one's direction in life and boosts talents that need to be recognized in one's Soul.
Sabian Symbol
The Sabian symbol for Leo representatives born on August 19th in each year that isn't a leap year:
"After the Heavy Storm, a Rainbow"
The Sabian symbol for Leo representatives born on August 19th in a leap year:
"The Luminescence of Dawn in the Eastern Sky"
The connection to the Divine is strong here, even though they seem to be led towards material resolutions. They are to find faith in accepting their circumstances, and true belief to see things in life as beautiful as they really are. Everything is moving to its brightest point, after the storm comes a rainbow and after the night, the Sun will rise. It is a promise of the highest deliverance if they only allow themselves to sink deep into their darkness and allow storms of life to guide them towards their dreams.
Famous Birthdays on 19th of August
In 1883 Coco Chanel was born, a French fashion designer that founded the Chanel Company. During WWII she was criticized for being too comfortable with the Germans but was never charged as a collaborator during the occupation of France. Her version of the story of her growing up is known to be dishonest and beautified, quite distant from reality.
In 1945 Ian Gillian was born, an English singer and songwriter, known best as the lead single and lyricist for Deep Purple. His work speaks well of his connection to Neptune, considering the name of the band he guided to fame, and singing the role of Jesus in the rock opera Jesus Christ Superstar.
In 1946 Bill Clinton was born, an American lawyer and politician, and the 42nd President of the U. S. His public fall through infidelity is the best pointer to the influence of Neptune on his Sun in a hazy planetary row.
Important Historical Events on 19th of August
295 BC – The first temple to the Roman goddess of love, fertility and beauty, Venus, is dedicated.
1839 – It is announced by the French government that the photographic process is a gift "free to the world".
1909 – Indianapolis Motor Speedway has its first automobile race.
1927 – The declaration of loyalty of the Russian Orthodox Church to the Soviet Union.
1964 – The launching of the first geostationary communication satellite.
2005 – Peace Mission 2005, the first joint military exercise between Russia and China, begins.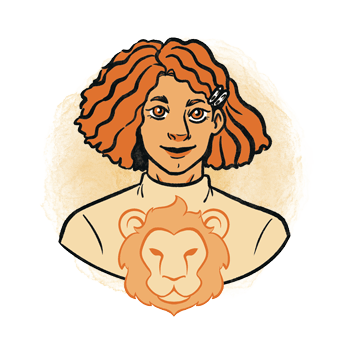 Additional Information
Leo - traits, personality, dates, characteristics and astrological sign information.
Leo man - information and insights on the Leo man.
Leo woman - information and insights on the Leo woman.
Leo compatibility - the compatibility of Leo with the other astrological signs in love, sex, relationships and life.
Leo history - the history of Leo and the stories behind it.
Leo symbol - images and interpretations of the Leo symbol and ruler.
Zodiac Calendar - Discover what your date of birth tells about your character, motivation and purpose in life.