07/09 Birthday - Zodiac Information
July 9th Zodiac
Date: July 9th
Zodiac Sign: Cancer
Color: Periwinkle
In One Word: Utopia
Shape: Infinity Symbol
Strength: Spiritual
Weakness: Lost
Most Compatible With: Capricorn

Guided by forces that are out of this world, July 9th is a date of connections to higher planes and languages of gods that take us where we wish to go through missions and symbolism. There is always a path to avoid inner struggle in the nature of this date and tides of it are there to guide those born at this time in directions that one should blend with, expecting little to achieve greatness. It is their task to find freedom in movements that seem predestined and impossible to avoid.
July 9th Horoscope
(Pluto) – NEPTUNE – (Pluto) – URANUS
The story of July 9th isn't visible, close to Earth or easy. Souls of those born on this date feel the strong pull of distances, wish to live somewhere far away, in another country, beyond the ocean, or in their own dreamland. They are dreamers that fantasize about the way things in their life might turn out, and find disappointment one too many times if they are detached from earth and unrealistic in their emotional approach. In search for a tribe to belong to and good friends they can rely on, every dishonesty and every betrayal break their confidence. They are to stay true to their mission no matter what other people in their life do, think or say.
The second planetary row connects the Sun with Venus and they share a story of creativity and inspiration that a person born on this date needs to respect and follow. Talents are here to be used and expressed through some form of art or creative work. They are to find the right way to manifest their visions and bring the future closer to the Now keeping their mind and their hands busy on all occasions.
Love and Emotions
Idealists by nature, individuals born on the 9th of July tend to search for one true soulmate to be with until the end of their days and possibly longer. On the other hand, their inner drive to set free takes them in the strangest of directions and makes them unstable in emotional bonds at a young age. It is important for them to experiment and find their true place next to the right partner, or they might discover later in life that they miss all those adventures they never had and be faced with the time spent in boredom of a shared life with a partner they don't love passionately enough.
Changeable and in search for someone to always tell them the truth, they could be a part of secret relationships and affairs that last longer than they wanted them to. Looking for excitement of great distances and unreachable ideals, they often fall in love with people they cannot be with, and fantasize about those they don't really know that well. It is important for them to keep their feet on the ground and see the person standing in front of them realistically enough to keep any relationship going. Turned to platonic and unachievable romances, they could miss a large chunk of finding joy in life here on Earth, and it is important that they recognize the real potential of those they can touch and be close to.
Purpose
The main purpose in lives of people born on July 9th hides in their own liberation, but the freedom they seek is seen through their freedom to manifest and do something specific in the real world. They sometimes get passive, just like every Sun sign belonging to the element of Water, and their weakness could take over if they don't have enough faith in their chosen directions and talents. Life takes them on a true rollercoaster and they learn to be flexible without compromise, finding their meaning of life in eccentric expression and the element of surprise in turns and sharp changes they are about to make bravely.
What They Excel In
Individuals born on the 9th of July are quite artistic and always have a special talent they are to use in this lifetime. Depending on their upbringing and their special role, they become artists, singers, compositors, preachers, or religious leaders. They find a special place in all realms of spiritual evolution and understand that each person around them is on their own mission, and in need of support. This makes them great friends, warm, intimate, and ready to help everyone they care for to reach for the heights they deserve to reach.
July 9th Birthday Gift
To choose the right birthday gift for a person born on the 9th of July, we are to keep in mind that they are highly sensitive even when they try to show their strength every step of the way. They will enjoy creative presents that get in touch with their soft side, different and handmade, all those poems and stories you never shared with anyone. If you don't want to get too close and personal choose a tender piece of art, something that will inspire and guide them, and resonate with their chosen passions and talents.
Positive Traits for July 9th Born
Inspirational, talented and highly sensitive, they are the state of compassion itself when cleansed of emotional baggage, ready to support and willing to help every person in need. Their inner drive to save human race and their ideals make them special in every way.
Negative Traits for July 9th Born
Too sensitive to live in the real world, detached and lost in their dreams, runners from reality that are unwilling to face the hard, cold truth surrounding them.
Healing Crystal
Goshenite is a wondrous stone for each person born on July 9th, helping them to get in touch with their dreams while still being able to see their position clearly and truthfully. It is a crystal that leads towards recognition of the truth in other people and their ways. It will emphasize meaningful and vivid dreams and help one see their benefit in everyday life. It is the inspiration for loyalty and focus on moral values that these individuals feel the need to nurture.
Sabian Symbol
The Sabian symbol for Cancer representatives born on July 9th:
"The Unfoldment of Multilevel Potentialities Issuing from an Original Germ"
Putting an emphasis on many layers of this symbol, this date speaks about incredible possibilities that one simple move might open in lives of these individuals. It is the story of the butterfly effect, of all realities that might come from one sole point in time. Although this may give incredible potential and bless them with the ability to be multitalented and diverse, ready to shine in any area they commit to, it can also trigger the fear of the unknown future and lack of understanding and acceptance for inevitable fates in their life.
Famous Birthdays on 9th of July
In 1951 Chris Cooper was born, an American actor known for his roles in American Beauty, The Bourne Identity and Adaptation. Married to one woman for over thirty years, through the good times and the bad, he is a wonderful example of high ideals of Neptune in his planetary row.
In 1956 Tom Hanks was born, an American actor, director and screenwriter, recognized by his roles in The Green Mile, Forest Gump and many others. Using his incredible talent to beat his shyness, he became one of the best paid actors of all times.
In 1964 Courtney Love was born, an American singer, songwriter and actress, who rose to prominence as the frontwoman of the band Hole and wife of Curt Cobain. Neptune in her row manifested from an early age, for she ended up in therapy when she was only 2 years old.
Important Historical Events on 9th of July
1609 – Freedom of religion is granted to Bohemia.
1793 – Importation of slaves is banned in Canada.
1900 – Royal assent is given to the Federation of Australia.
1937 – A large fire destroys silent film archives of Fox Film Corporation.
1962 – The observation of nuclear tests at orbital attitudes by Starfish Prime.
1986 – Homosexuality is legalized in New Zealand.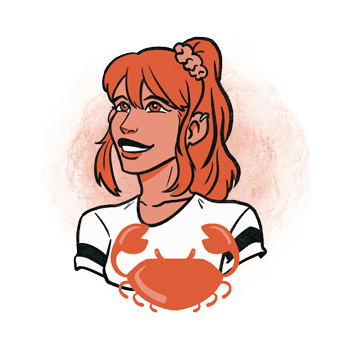 Additional Information
Cancer - traits, personality, dates, characteristics and astrological sign information.
Cancer Man - information and insights on the Cancer man.
Cancer Woman - information and insights on the Cancer woman.
Cancer Compatibility - the compatibility of Cancer with the other astrological signs in love, sex, relationships and life.
Cancer History - the history of Cancer and the stories behind it.
Cancer Symbol - images and interpretations of the Cancer symbol and ruler.
Zodiac Calendar - Discover what your date of birth tells about your character, motivation and purpose in life.