09/11 Birthday - Zodiac Information
September 11th Zodiac
Date: September 11th
Zodiac Sign: Virgo
Color: Safety Orange
In One Word: Misunderstanding
Shape: Two Moving Dots
Strength: Integrity
Weakness: Hazy Conflicts
Most Compatible With: Capricorn

September 11th is a sensitive time for ego and personal beliefs that go against personal beliefs of other people. It is a date when conflicts of two authorities are bound to happen, founded on lack of knowledge, ignorance and matters of faith that are distorted and unclear in their manifestation. It is a time of grandiose images of Self when one has to learn how to be truly humble in the eyes of God and the Universe, while at the same time holding on to healthy boundaries and keeping their self-respect intact.
September 11th Horoscope
SUN – SUN – (Pluto) – NEPTUNE
There is something extremely inspiring but also shady in this planetary row, for two Suns rarely make things easy for interactions between people, and with Neptune present, they get blurred and lost in emotions and things coming from the world of the unseen. Those born on September 11th might feel lost or scattered between two personalities, one of them claiming power and the position they wish to take in life, and the other being their authentic, childish and joyful Self that sleeps until the moment comes to fight for its place under the sun.
It is a stressful time to be born is, for someone as stable as the intelligent Earth sign of Virgo needs to embrace the change of their sign's quality and see that they can always find middle ground, even when they do not want to search for it. We will often see these individuals speaking confidently about something they would never do in their youth with a fierce attitude, only to abide by its rules as they grow older, so they can learn about "the other side" of their inner conflict. They require a lot of room and freedom to express themselves and shine, in need of respectful friendships set on solid foundations that will support them in their time of need.
Love and Emotions
Everything in lives of those born on the 11th of September seems to turn around ego issues and personal battles that are quite masculine in their primal nature. This often leaves little room for their romantic and fragile nature to shine in the beginning of their dating days and needs them in touch with the strong qualities of a leader, a winner, and a rational thinker for the first part of their lives. They will slowly learn, as time goes by and unfulfilling rational relationships prove to be depressing and tiring, that it is the truth of the moment they are to follow if they are to ever be happy with another person.
Rough around the edges and sometimes difficult, they are still stable partners with integrity to anyone who gives them love. However, in order to truly connect on a deeply sensitive plane, they are to embrace their own frailty and weaknesses first, so they can resonate with another person with enough understanding to make them happy. Once they discover the joy of a romance where both partners make each other laugh, they will never go back to battles from the past again.
Purpose
The ultimate purpose in lives of Virgos born on September 11th is a matter of heart and their connection with other people on a deeply emotional level. They are to learn how to set their Soul free from ties and battles of their ancestors, and how to let emotion govern their lives towards fulfillment and peace they seek. When they allow themselves to truly follow where their feelings take them, they embark on their true mission towards forgiveness and love.
What They Excel In
A Virgo born on September 11th strives high and often makes things work in positions of power and leadership. They make excellent managers if they stay humble and in touch with people working for them, and excel in all things that require childish creativity, initiative and organization. They easily work under pressure for as long as they respect their authority and become their true self once they open up for their own vulnerability and deep feelings that move them.
September 11th Birthday Gift
It is always wise to choose a birthday gift for a person born on September 11th based on their current interests and occupation. Still, you need to be careful because they easily get bored, even though they might not admit it, and you are to stay in tune with their interests instead of holding on to outdated trends that no longer keep them inspired. Go with gestures of respect, warmth and good company, take them out to a concert or a play they wish to see, and make them feel like royalty on this day. This will be remembered much more than any material thing ever might be.
Positive Traits for September 11th Born
Their powerful will and initiative make them excellent leaders, those who organize everyone and everything around them and keep things functional and clean. They are truthful, loyal, and ready to sacrifice everything for people and ideals they believe in.
Negative Traits for September 11th Born
Stubborn, stuck in attitudes that can get broken in time, when they get too dismissive and critical over other people's ways, they might get lost in idealism that doesn't come from the heart and stay stagnant in rational and "common" choices unsatisfied and depressed.
Healing Crystal
Bumble bee jasper, also known as the eclipse stone, is the right choice of stone for a person born on the 11th of September. It is a strong earth energy crystal connected to volcanic activity that influences the solar plexus greatly and causes growth in actual personal power. It will balance out one's need to reach status with their true authentic Self, boosting their self-esteem and setting them free of shame that holds them back in interactions with other strong-headed individuals. This stone must be used sealed, as it is toxic and contains both Arsenic and Sulphur.
Sabian Symbol
The Sabian symbol for Virgo representatives born on September 11th in a year preceding a leap year:
"An Ouija Board"
The Sabian symbol for Virgo representatives born on September 11th in a leap year and two years following it:
"A Swimming Race"
From these two symbols combined, we may get a glimpse of the importance of time and common limitations and restrictions in lives of those born on this date. To move out of the frame and think outside the box, they feel a strong need to win and fit in, proving their worth and their power until they start seeing a much bigger picture. They are to move towards a goal while at the same time communicating to their shadows and all those things they fear, if they are to ever learn how to use the magic they carry in their heart.
Famous Birthdays on 11th of September
In 1816 Carl Zeiss was born, a German scientific instrument and lens maker who has created the Optical instrument. He was baptized in honor of his godfather the crown prince and his father the archduke.
In 1961 Virginia Madsen was born, an American actress and producer, recognized for her roles in the horror movie Candyman and Sideways. Her father was a fireman and after the divorce of her parents, her mother left a career in finance to pursue one in arts.
In 1965 Moby was born, an American singer, songwriter and DJ, known to bring dance and electronic music to a mainstream audience. He has co-written, remixed and produced music for musicians such as David Bowie, Guns N' Rose, Metallica and others.
Important Historical Events on 11th of September
1609 – Manhattan Island is discovered along with indigenous people living on it.
1792 – Robbery in which the Hope diamond was stolen.
1978 – The last death by smallpox on record.
1997 – Mars Global Surveyor launched by NASA reaches Mars.
2001 – The September 11 attacks on the World Trade Center in New York city.
2007 – The largest of all conventional weapons ever, called the Father of All Bombs, is tested in Russia.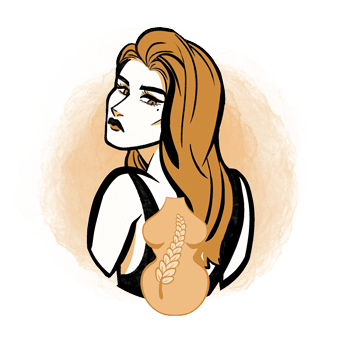 Additional Information
Virgo - traits, personality, dates, characteristics and astrological sign information.
Virgo man - information and insights on the Virgo man.
Virgo woman - information and insights on the Virgo woman.
Virgo compatibility - the compatibility of Virgo with the other astrological signs in love, sex, relationships and life.
Virgo history - the history of Virgo and the stories behind it.
Virgo symbol - images and interpretations of the Virgo symbol and ruler.
Zodiac Calendar - Discover what your date of birth tells about your character, motivation and purpose in life.