09/05 Birthday - Zodiac Information
September 5th Zodiac
Date: September 5th
Zodiac Sign: Virgo
Color: Payne's Grey
In One Word: Honesty
Shape: Two Waves
Strength: Sensitive Communication
Weakness: Dishonest
Most Compatible With: Scorpio

September 5th is a point where intelligence meets our maker, and all those practical little things are to turn into something much bigger in order for a person to make progress in life. This is a time of unveiled mysteries, secrets told and shared when they should or shouldn't have been spread, and all those issues that preoccupy one's mind when it opens for the Divine Truth. Some issues might never be explained, but this doesn't mean it isn't their responsibility to try and understand them.
September 5th Horoscope
(Pluto) – MERCURY – (Pluto) – NEPTUNE
Neptune tends to disperse the train of thought this little Mercury is trying to organize, and those born on September 5th might find themselves constantly fighting an inner battle they cannot win. They are dreamers but often hate to admit it, and they could be torn between intellectual and emotional choices, as well as reason and religion, as time goes by. With their words soft and honest, they will see that there is a tender way to express their real personality, gathering the right tribe around them and being constructive and inspired at the same time.
Although it isn't obvious from their first planetary row, the theme in lives of those born on this date is their individualism and strength of will and personality. Issues with fathers and authority figures could push them deep into shame, making them turn to all sorts of made up stories or shady approaches to others in the attempt to hide all their inadequacies and bruises. They are to learn how wonderful they really are, expressing their truest core without shame or pressure.
Love and Emotions
Since honesty is the foundation of anything solid and permanent in lives of Virgos born on September 5th, we can expect their love life to face a certain lack of it until their awareness grows to the point of mutual understanding. They could hold on to platonic bonds as well as those that don't really meet their emotional needs and criteria and need to build enough faith in themselves to be truly able to bring their ideals to life and live intimate and close with someone they trust with their entire heart.
Every relationship is a lesson learned, and no matter the number of romances in their lifetime, they will seek what is true and authentic, in touch with their emotional needs. Their greatest challenge is to follow the flow of feelings and for as long as they stick to rational solutions rather than listening to their heart, they will get disappointed and bruised. It is important that they stick to their ideals and see their light in the real world as it guides them towards things they can believe them, pure and filled with purpose.
Purpose
September 5th combines to number 5 in the end, and it turns out that Mercury in its pure form governs it. This may seem balanced and easy to follow, but in fact this little trickster is to learn about vast truths of the Universe in order for the person to set free and show to others who they really are. Communication is the focus point of their Virgo nature, as well as writing, drawing, or any form of self-expression that keeps them feeling inspired and motivated to pursue it.
What They Excel In
A person born on the 5th of September excels in creative writing, music, and everything that allows them to put the unseen energies into words and movements. They are artists when they find the right inspiration, and those who help children and people in need with dialogues that are pure and liberating. As they understand their talents a bit better, they learn how to cope with constant insecurities and become wonderful leaders as they approach the higher purpose they are here to commit to.
September 5th Birthday Gift
As much as people born on September 5th need their imagination triggered and their openness for the unreal things and fantasy heightened, they still have their Sun in Virgo and enjoy simple, useful things in life. When choosing their birthday present, keep in mind both sides to their personality and choose something artistic enough but still touchable, readable, and practical. A good fiction novel is a good choice, as well as a trinket that is small and significant, carrying a message of your feelings for them in their purest form. A train ticket or a short vacation is also a good idea.
Positive Traits for September 5th Born
Talented, dreamy, and in their own world of tenderness, they are gentle souls that interact with others through dialogues that give meaning and purpose to relationships and everything that might happen in the future.
Negative Traits for September 5th Born
Getting lost in their own world, they get detached, too sensitive to express themselves freely, and sometimes dishonest and vague. They need support to shine with their true nature shown to the rest of the world.
Healing Crystal
Iolite is a fine crystal to help Virgos born on September 5th grow, as it connects them to deep earthly planes, just as much as it opens the space for their mind to unwind. It is a stone that aids imagination, leading to visions they are meant to see and clarity of mind. This crystal will help with thoughts that burden their emotional world and show the purposeful road ahead, slowly melting their stubborn attempts to hold on to practicality and reason, taking their spirituality to a higher level.
Sabian Symbol
The Sabian symbol for Virgo representatives born on September 5th in a year preceding a leap year:
"After the Wedding, the Groom Snatches the Veil Away from His Bride"
The Sabian symbol for Virgo representatives born on September 5th in a leap year and two years following it:
"A Powerful Statesman Overcomes a State of Political Hysteria"
Plays of authority, power and dim, hazy matters are seen in this row and although some traditions might hold these individuals back, we will see them grow rapidly to the point of self-acceptance. There is intensity in these situations, both causing some sort of stress and their subjection to stress is imminent in this lifetime, but they are to rise above it and work with focus and dedication in the time of crisis, becoming leaders themselves.
Famous Birthdays on 5th of September
In 1847 Jesse James was born, an American outlaw and robber, one of the most iconic figures of his era. His father was a minister to those who were searching for gold during the gold rush and died on his travels when Jesse was three years old.
In 1946 Freddie Mercury (Farrokh Bulsara) was born, a Tanzanian English singer and songwriter, the lead vocalist of the band Queen. Although he was aware of his talent since a young age, his rough upbringing and battles with his true personality and sexual orientation led to damage of his physiology. He died of AIDS at the age of 45.
In 1951 Michael Keaton was born, an American actor, producer and director, known for his roles in Beetlejuice, Need for Speed and Birdman. Apart from his acting career, he wrote a blog for ESPN.
Important Historical Events on 5th of September
1698 – In Russia, a tax on beards for men, except for clergy and peasantry, is imposed.
1882 – The first US Labor Day parade is held in NYC.
1970 – Formula One World Drivers' Championship is won posthumously by Jochen Rindt (born on April 18th).
1977 – Voyager 1 is launched by NASA.
1980 – The world's longest highway tunnel is opened in Switzerland.
1984 – Capital punishment is abolished in Western Australia, the last Australian state to do so.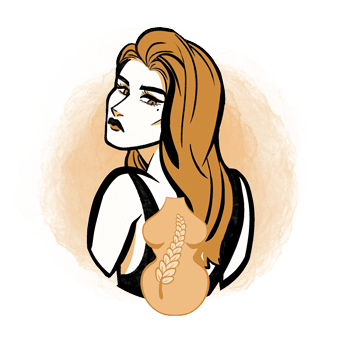 Additional Information
Virgo - traits, personality, dates, characteristics and astrological sign information.
Virgo Man - information and insights on the Virgo man.
Virgo Woman - information and insights on the Virgo woman.
Virgo Compatibility - the compatibility of Virgo with the other astrological signs in love, sex, relationships and life.
Virgo History - the history of Virgo and the stories behind it.
Virgo Symbol - images and interpretations of the Virgo symbol and ruler.
Zodiac Calendar - Discover what your date of birth tells about your character, motivation and purpose in life.