09/24 Birthday - Zodiac Information
September 24 Zodiac
Date: September 24
Zodiac Sign: Libra
Color: Desert Sand
In One Word: Bygones
Shape: Circle
Strength: Responsible
Weakness: Deeply Frustrated
Most Compatible With: Sagittarius

Inexperienced in their autumn role, Libras born on September 24th aren't yet sure what to do with all that tact and tenderness in contact that they were born with. Their may feel for the greatest part of their lives as if their only goal in relating is to keep their head above the water, or they might drown in unwanted emotions and bruises to their heart and their Soul. Time makes them stronger, but it also teaches them that true strength isn't found in a world without structure and pain.
September 24 Horoscope
MOON – SATURN – (Pluto) – NEPTUNE
Understanding the consequences of their actions, those born on September 24th have trouble making the first step and moving towards a goal. Although they can be quite active, professional and ambitious, they will show the greatest deal of disbelief in the Self when faced with a new beginning they are meant to move towards alone. Their deepest emotional needs are often restricted at a young age, and they will learn about structure, but they might lack knowledge on the importance of closeness and personal satisfaction. Instead of dismissing painful issues and trying to be rational, they are to learn how to embrace them and realize that pain is what truly connects them on intimate levels with other human beings.
Self-expression is the path of their second planetary row, as well as honest expression of their inner desires. Initiative will be fueled by the right social circle, but they are to learn how to rely on their own, deeply personal attitudes and beliefs before moving in any direction at all. When they turn to their inner world for assistance instead of searching for a partner in crime, they become proactive, creative and joyous.
Love and Emotions
The spasm of their planetary row combined with Venus as their guiding light may be tricky. People born on the 24th of September could lose sight of true feelings and values in their life, tossing away their natural gratitude and emotion carried in their heart. Family relationships will set up a foundation for all their romances, and they could find themselves repeating stories of their ancestors without control, as if someone else told them what to do and how to choose their partner and all those circumstances that come with a new bond.
Serious and deep, they aren't to settle for relationships without quality. They need one person to be by their side, stable and firm, giving them grounding and a haven when needed. Most of all, they need a home where they will feel safe to share their darkest emotions, and when they find someone who truly understands their pain, they won't have much trouble deciding to commit. Protective of their inner world, they could close their heart while growing up, especially if their first romantic experiences haven't been easy. It is important that they build a structure and start understanding what their instincts mean, seeing that they can protect themselves from faulty contacts and stay open for those that don't endanger them in any way.
Purpose
The love of Venus is there to light their way, and the purpose in lives of those born on September 24th is to find love, partnership and the right balance of all opposing things in their inner and outer worlds. They need tact and beauty, to see the wonder in every little detail they stumble upon, and to learn that the other person is to be as valued and loved as they are. They are on the search for love, physical pleasures and beauty in its purest form.
What They Excel In
A Libra born on September 24th excels in all issues concerning history, deep research and analysis. They are to help others find their way towards togetherness and love, and very often they will choose to be therapists of some sort to give to the world what they have learned from their experiences. They excel in hard work with other people, whatever the core that needs to be looked at, and work well with crystals and healing techniques that are stable and easy to control while still connecting them to the sensitivity of relating.
September 24 Birthday Gift
A birthday present for someone born on September 24th may be anything from a book on historical sights they wish to see, to a practical thing they can use to bake, stir, or fry things in their kitchen. They will appreciate a new view on religion and could distance themselves from gifts that are too gooey and emotional, as if they were too tough to take such energies in. If you wish to resonate with their heart, don't choose romantic clichés and poetry, but choose something old, a memory you've created in the past or a trinket from an antique shop to make them feel respected and remembered.
Positive Traits for September 24 Born
Constructive, willing to fix what is broken and responsible, they are ambitious to cleanse their emotional world and bring change to the world of others. Learning from their pain and connecting through it, they will also learn how to value other people's weaknesses.
Negative Traits for September 24 Born
Detached, distant and often too afraid to connect to others, they will fall into rational schemes and plans until not much is left of their joyous nature. When abused or pushed away as children, they could become true psychopaths and egocentrics without enough empathy to function in healthy bonds.
Healing Crystal
Conichalcite is the perfect stone for those born on the 24th of September. It resonates with their heart chakra and brings a sense of peace and joy to their emotional world, making it impossible to keep their hearts closed, while also making them stable and grounded. It brings strength in times of change and helps one surrender, release and embrace love. It is also a very good stone to help with going into deep meditation and other relaxation techniques.
Sabian Symbol
The Sabian symbol for Libra representatives born on September 24th in every year that isn't a leap year:
"In a Collection of Perfect Specimens of Many Biological Forms, a Butterfly Displays the Beauty of Its Wings, Its Body Impaled by a Fine Dart"
The Sabian symbol for Libra representatives born on September 24th in a leap year:
"The Transmutation of the Fruits of Past Experiences into the Seed-Realizations of the Forever Creative Spirit"
This is a time to let bygones be bygones and move on to new phases of life from painful experiences that took away one's dignity or any form of personal power. After the emptiest and most painful losses of Self and experiences that are seemingly perfect on the outside, but tearing them up within, individuals born on this date are to discover their true creativity and the potential they have always been carrying in their heart.
Famous Birthdays on 24 of September
In 1896 F. Scott Fitzgerald was born, an American novelist and short story writer, best known as the writer of The Great Gatsby. Female characters in his novels were mostly inspired by Zelda, a woman he fell in love with. She accepted his proposal but during their engagement, he wasn't able to prove that he would be able to support her, so she broke the engagement off.
In 1936 Jim Henson was born, an American puppeteer, director and screenwriter, and the man who created The Muppets. On the Hollywood Walk of Fame, he is honored both as himself and as Kermit the Frog.
In 1962 Nia Vardalos was born, a Canadian American actress and screenwriter, recognized for her work on the movie My Big Fat Greek Wedding where she also starred in. In real life, she married an American man who converted to Greek Orthodoxy to marry her.
Important Historical Events on 24 of September
1869 – Gold prices plummet after the order of President Grant to the Treasury to sell large quantities of it.
1929 – The first flight without a window is performed by Jimmy Doolittle (born on December 14th).
1948 – Founding of the Honda Motor Company.
1960 – Launching of the world's first nuclear-powered aircraft carrier.
1996 – Comprehensive Nuclear-Test-Ban Treaty is signed by 71 nations in the UN.
2014 – India becomes the first nation to reach the orbit of Mars in its first attempt with their Mars Orbiter Mission.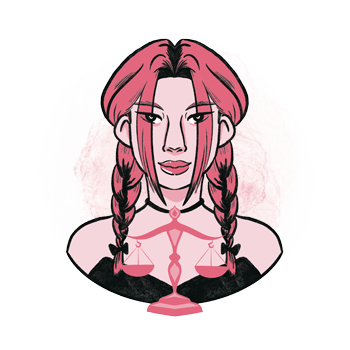 Additional Information
Libra - traits, personality, dates, characteristics and astrological sign information.
Libra man - information and insights on the Libra man.
Libra woman - information and insights on the Libra woman.
Libra compatibility - the compatibility of Libra with the other astrological signs in love, sex, relationships and life.
Libra history - the history of Libra and the stories behind it.
Libra symbol - images and interpretations of the Libra symbol and ruler.
Zodiac Calendar - Discover what your date of birth tells about your character, motivation and purpose in life.