04/11 Birthday - Zodiac Information
April 11th Zodiac
Date: April 11th
Zodiac Sign: Aries
Color: Persian Red
In One Word: Center
Shape: Dot
Strength: Clarity
Weakness: Stubbornness
Most Compatible With: Sagittarius

There is something different in Aries representatives born on the 11th of April. They will stand out from their family tree, be marked by the invisible spheres beyond their genetics, and their vision will go further than that of those around them. While the safety of their inner core and personality mostly depends on the weaknesses of their father, they will find their place of belonging as they embrace the fact that they have fallen far from the tree to begin with.
April 11th Horoscope
SUN – SUN – (Pluto) – SATURN
There is a power of personality and will to those born on April 11th that needs to be cherished and nurtured through emotion and acceptance. If they sink into the pool of battle for supremacy, with their father, partner, or any superior in life, they could end up torn, losing touch of who they actually are. The main challenge of two suns in this planetary row is to find one center of personality among so many different qualities. They would love to be everything they see as powerful, but their place of belonging must be set in their heart and it is their feelings that should define the fire in their Soul, not their reason or aware decisions.
Love and Emotions
It is really important for a person born on April 11th to find someone to share joy and laughter with. If their partner simply inspires them to do things out of spite, have a constant battle for supremacy, or abuses them in any way, they will lose all faith in life and what it might bring. They need someone equal, someone from their world, and to find such a person, they have to realize and feel with every inch of their heart – where they truly belong.
There is an inspiring concept in their philosophy that turns them to free love as they get older. The pressure of two suns combined in their planetary row will bring some troubling relationships their way, but as soon as they build a power of ultimate self-respect within, they will find that they can be with someone who truly suits their Soul. They need someone active, a partner to follow them and see life as an adventure, while at the same time protecting their shared emotional core. Once they find such a person, they will dedicate their lives to trying to win their heart over and over again, and stay with them for as long as they have something to smile about.
Purpose
This is one of the most imbalanced dates in the entire zodiacal circle that is in a constant fight for perfect balance, love, beauty and satisfaction. Their nature is fiery but needs to be tactful, and their mind sharp while loving and caring just enough. They will sacrifice themselves for the people they love, and this might be their greatest mistake. It is imperative that they hold on to their sense of self-worth, and to surround themselves with those who make them smile. It is safe to say that no matter their battles and ambitions, their main purpose in life is to dance, sing, and enjoy earthly pleasures of food, love, and devotion to another human being.
What They Excel In
A person born on the 11th of April is a real leader, mostly because of their ability to put themselves in other people's shoes. This isn't typical for an Aries, and they won't always recognize this as their strength, but in fact their emotional nature is their most powerful tool for preservation. They are excellent sportsmen, activists, innovators and lovers, and will make truly remarkable directors and managers as they get older and gather the experience they need to feel confident to lead.
April 11th Birthday Gift
The right birthday gift for a person born on the 11th of April will always include something personal that resonates with their fiery character. Put a dash of red into it, whatever you choose, but be creative in your efforts. Make them a collage of images that represent important moments you shared together. Choose a piece of jewelry that has an important message to share or something to aid their personal creative process.
Positive Traits for April 11th Born
Assertive, strong and remarkably passionate, they will burn every obstacle in their way if they have something to strive for. They are excellent workers and managers, showing initiative with just enough tact to be loved by a team they work in.
Negative Traits for April 11th Born
Preoccupied with their own problems, they could fail to see what their friends and close people are going through. Self-centered, too feisty, ready for battle when it isn't necessary, reactive, and sometimes aggressive when they should remain calm.
Healing Crystal
Amblygonite is a very good crystal to support those born on April 11th for it aids creative expression and releasing the emotional charge left in their energetic body in past experiences. This stone brings calmness and the ability for one to become aware of their personal Divinity, understanding that the Soul will go on from this life to the next one in a single lost breath. It will be an inspiring tool for creativity in dance, music, and writing, assisting a person to be at peace and let the flow of their inner beauty out into the world.
Sabian Symbol
The Sabian symbol for Aries representatives born on April 11th born in one of the two years preceding a leap year:
"A Pugilist Enters the Ring"
The Sabian symbol for Aries representatives born on April 11th of a leap year and a year that follows:
"The Gate to the Garden of All Fulfilled Desires"
When these two symbols combine, we see that there is a battle to be won in order to reach the garden of materialization. There seems to be a magical place calling on those born on the 11th of April, and it hides somewhere in the future, when they exit the ring in victory. It is in their nature to use sheer strength of personality, their sharp words, feisty nature and loud voice, to show their natural leadership and ways in which they are dominant over other people. They are aware that there is a time and place for their battles, and need to understand that it is their inner process that defines them on their way to happiness. Others have little or nothing to do with it.
Famous Birthdays on 11th of April
In 1966 Lisa Stansfield was born, an English singer and songwriter, who made a breakthrough in her career with the single "All Around the World". After one failed marriage, it took years of friendship and engagement before she decided to commit to a partner she found equal.
In 1973 Jennifer Esposito was born, an American actress mostly known for her appearances in Crash, Don't Say a Word, and television series such as Mistresses, Spin City and Blue Bloods. The problem of her planetary row and her third chakra (and her Sun) showed through celiac disease.
In 1987 Joss Stone was born, an English singer and songwriter, who rose to fame with her album The Soul Sessions especially the top ten hit "You Had Me". Interestingly, she was kind of pushed into creative and artistic work by dyslexia.
Important Historical Events on 11th of April
1689 – Great Britain gets joint sovereigns in William III (born on November 4th) and Mary II (born on April 30th).
1814 – The War of the Sixth Coalition against Napoleon Bonaparte (born on August 15th) ends with the Treaty of Fontainebleau and he is forced to abdicate for the first time.
1881 – The foundation of the Spelman College as the institute of higher education for African-American women in Atlanta, Georgia.
1909 – The foundation of the city of Tel Aviv.
1957 – The UK agrees to Singaporean self-rule.
1963 – The first encyclical addressed to all Christians (instead of only Catholics) is issued by Pope John XXIII (born on November 25th).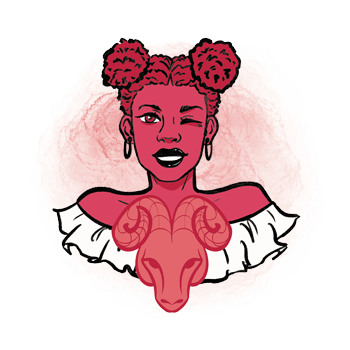 Additional Information
Aries - traits, personality, dates, characteristics and astrological sign information.
Aries man - information and insights on the Aries man.
Aries woman - information and insights on the Aries woman.
Aries compatibility - the compatibility of Aries with the other astrological signs in love, sex, relationships and life.
Aries history - the history of Aries and the stories behind it.
Aries symbol - images and interpretations of the Aries symbol and ruler.
Zodiac Calendar - Discover what your date of birth tells about your character, motivation and purpose in life.