04/06 Birthday - Zodiac Information
April 6th Zodiac
Date: April 6th
Zodiac Sign: Aries
Color: Mountbatten Pink
In One Word: Inhibition
Shape: Diamond
Strength: Deep Emotions
Weakness: Guilt
Most Compatible With: Aquarius

April 6th is a date filled with oppositions of sorts, for a person born on it is fragile and rough, loving and protective of their heart, and truly colorful while at the same time soldier-like. This is a time of great differences and relationships will play a big part in lives of those born on this date. To find their creative core, they need to rely on emotions and the inspiration it brings into their world.
April 6th Horoscope
(Pluto) – VENUS – (Pluto) – SATURN
This is a combination of planets responsible for lasting bonds and an extreme feeling of guilt. With the initiative being the core of each Aries primal nature, we will see that lives of those born on April 6th tend to revolve around actions they regret and this creates strong restrictions in their emotional world. Time can be quite friendly here though, and if they learn to set free and take responsibility only for what is theirs to begin with, they have a chance to deepen their feelings to the point of serious and demanding dedication. This is a time when marriage and feelings that last need to take a primal role and a person must find a way to separate them from quick infatuations that will be gone in a matter of days.
The second row will include the deep change of the Sun as in all dates that add down to number 10, meaning that a person born on this date has a task to overcome authority that set their personality's basis and needs to move on to something new. Their center will be found in connection with the Earth and inevitable forces, usually very different from the personality they were attributed in their primal family.
Love and Emotions
Emotional awareness is the most important part of growth in those born on 6th of April. Depth of their relationships is always something to trouble them once they end, and they could spend years unable to get over people who hurt them or those they once hurt. Their dedication creates a problem here for it ties them down instead of letting them feel the joy and the pull of inspiration in the moment. They need to truly embrace the now and set free from ties of the past and energy invested into relationships that were bound to end.
True quality in their emotional world comes from understanding and connection they get from "outer spheres", from books and music, and any media or form of art that is free from personal involvements. As they discover the inner feeling of belonging and understanding, they will usually find happiness in solitude only to grow from there and find someone to fit their emotional complexity as they build new confidence to grow on.
Purpose
In search for their purpose in this lifetime, these individuals will often be surprised to find that it is to find their personality's core. As if they were a part of a grand design and a surroundings that pulled out something weird out of their system, only solitude will help them discover who they truly are. Their main objective and their direction in life always brings them closer and closer to their Self and while this might not make them popular, it will, in the end, make them creative, beautiful, relaxed, and happy.
What They Excel In
April 6th born excel in all activities that reflect their true creativity and spark the inspiration they carry within. When their emotional world is triggered, they will sense their surroundings deeply and interact with others in magnificent ways. If they get in touch with their inner truth, they will make excellent artists, decorators, designers, and dancers. Their love for deep knowledge and specific information could lead them into science or history, but this tends to burden their Soul and keep them tied to things they cannot touch.
April 6th Birthday Gift
You can always choose a piece of art as a present for those born on the 6th of April. Go with something archaic or something made of stone or clay. They will also enjoy a present they can use, but it is best to steer clear of their practical side for it pushes them away from spontaneous enjoyments in life. Give them something they can treasure, something of deep personal value, or make something yourself. They are always in search for live colors but in balance, something to prove that beauty can last, and a dance or a song they can turn to in the time of need.
Positive Traits for April 6th Born
Joyful, colorful, creative and inspiring for those around them, they have the power to heal the opposites and bring light into relationships that are burnt by ego problems. They are a positive turning point in the nature of Aries, where tact, love, and genuine tenderness are accepted.
Negative Traits for April 6th Born
Overly critical, thinking they don't deserve better than what is far below their league, they will settle too often and use their strong personality to justify their choices. They easily turn to shifting blame and avoiding responsibility, or taking too much of it.
Healing Crystal
When choosing the right crystal for their Soul, those born on April 6th should consider amber. Although it isn't really a stone, it is often used as one, and has specific influence over one's energetic body, especially Venus and the sacral chakra. It will set a person free from the pressure of time on beauty, happiness and joy, give them flexibility of heart and body, and prepare them to enjoy life instead of pushing their inner music away.
Sabian Symbol
The Sabian symbol for Aries representatives born on April 6th born in one of the two years preceding a leap year:
"Nature Spirits are seen at Work in the Light of Sunset"
The Sabian symbol for Aries representatives born on April 6th of a leap year and a year that follows:
"Two Dignified Spinsters Sitting in Silence"
When we read these two sentences, we will find that they are in a way soothing, as if something is dialing down. A day is coming to an end, life is moving forwards and opportunities passed us by or never came. Things here are out of one's control but there is a note of deep understanding for the inevitable in the silence of two spinsters that one has to be grateful for. This is a quiet time when words aren't needed and everything a person needs to know can be found in their own heart.
Famous Birthdays on 6th of April
In 1928 James Watson was born, an American biologist and geneticist, one of the co-discoverers of the structure of DNA. It is his teamwork that brought him such incredible success and a Nobel Prize to follow.
In 1953 Patrick Doyle was born, a Scottish film composer nominated for two Academy Awards and two Golden Globe Awards. Just after composing for Great Expectations he was diagnosed with leukemia. He worked even during his treatment and made a full recovery, showing what creative work can do for someone born on this date.
In 1969 Paul Rudd was born, an American actor and comedian who got his star on the Hollywood Walk of Fame in 2015. With his artistic expression taking over as he attended acting school, he also worked as a Bar Mitzvah disc jockey.
Important Historical Events on 6th of April
1327 – Petrarch (born on July 20th) the poet sees his idealized love, Laura, for the first time.
1808 – American Fur Company is incorporated by John Jacob Astor (born on July 17th), and it made him the first American millionaire.
1896 – The opening of the first modern Olympic Games in Athens, 1,500 years after the ban put on the original games by Theodosius I (born on January 11th).
1909 – The North Pole is reached by Robert Peary (born on May 6th) and Matthew Henson (born on August 8th).
1947 – Tony Awards are presented for the first time.
1974 – The band ABBA begins their international career by winning the Eurovision Song Contest with the song "Waterloo".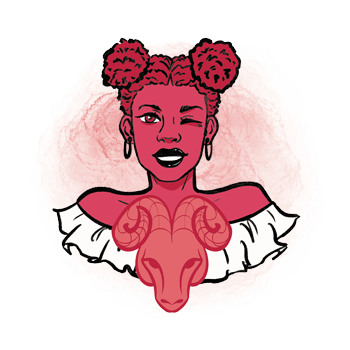 Additional Information
Aries - traits, personality, dates, characteristics and astrological sign information.
Aries man - information and insights on the Aries man.
Aries woman - information and insights on the Aries woman.
Aries compatibility - the compatibility of Aries with the other astrological signs in love, sex, relationships and life.
Aries history - the history of Aries and the stories behind it.
Aries symbol - images and interpretations of the Aries symbol and ruler.
Zodiac Calendar - Discover what your date of birth tells about your character, motivation and purpose in life.