04/18 Birthday - Zodiac Information
April 18th Zodiac
Date: April 18th
Zodiac Sign: Aries
Color: Scarlet
In One Word: Energy
Shape: Arrow
Strength: Forceful
Weakness: Stubborn
Most Compatible With: Gemini

Raw energy is the state of heart, mind and body in those born on the 18th of April and they need a place where they can invest it, spend it, and vent every day. Although this might make them excellent sportsmen, they could stumble upon too many obstacles in their way, unaware that there is a better path for them to take than the one they stubbornly follow, unsure if they want the same things anymore.
April 18th Horoscope
SUN – MARS – (Pluto) – SATURN
At first glance, we can see that this forceful Sun in Aries combines with Mars and gains even more fire and energy than one might be able to handle. Each person born on the 18th of April needs something true and realistic to focus on, or anger might pile up inside them and make them neurotic and edgy, unable to deal with frustration. Through life, they will learn how to make solid plans and stick to them, and this will give them the sense of strength and security they need to be successful and supported. Still, they always need to ask themselves if their path makes them happy, if it makes them smile, and whether they should make a change to their direction.
When digits of this date combine we get the number 13 once again, the forceful feminine energy serving as a pose of anger and resentment that needs to be overcome. Limitations come as a natural consequence of their purely masculine approach, and life serves to teach them that some things need to be waited for and passively taken in, with an open heart. If they push against the wall, the wall will just get thicker.
Love and Emotions
Feelings are a strange territory for a person born on April 18th for too much anger seems to flow below the Earth's surface to not be recognized in every situation. Although they won't manifest their feelings through anger all the time, their deep unconscious world takes over very often, and makes them a bit hasty, rough, or even aggressive when someone gets close to their heart. This is all a consequence of unconscious fear and hurt they have been subjected to in the past.
They could choose partners who need their protection and stay with them for years, even though they aren't really that inspired or satisfied, for their personality has the focus needed to endure. In need of someone to melt their heart and make them see why their darkness makes all the difference to the world of joy they seek, they will make sudden turns and moves to be on their quest for love once again, when their spouses or family members least expect it.
Purpose
Every person born on the 18th of April is on the quest to find ultimate faith. Karma is their friend only when they learn that there are things out of their control, let them go, and accept responsibility for taking in more than they were truly able to handle. Hardship isn't their path to greatness, emotion is, and they need to rest enough and find the time for silence and slow activities that relax the tension constantly building in their body. To find their real purpose, they need a spiritual path, and approaches like yoga, breathing techniques and meditation might help them reach the serenity they really need.
What They Excel In
A person born on April 18th excels in all forms of physical activity and expression through movement, sports, or strength of the body. They need a challenge to work on, focused, and pointed towards one goal and following one plan at a time. Although they can be excellent in multitasking due to their organizational skills, it is best for them to remain focused on one thing until it is done with and their schedule clears up. They will excel in all martial arts, one on one battles and confrontations, and won't lack the bravery to face the leading figure or the entire system if that is what's needed for progress.
April 18th Birthday Gift
The best birthday gifts for those born on April 18th are either those bought at a sex shop as a joke or weapons and sharp objects that are sold as defensive tools. Their instincts are strong and if we approach their heart through them, they may feel an emotional connection developing too, for they don't normally expect someone to follow their animalistic nature and understand what it needs. They want to be given something that will put a smile on their face and keep them in a childish glow to fill them with energy. Their present is to get them in touch with the social plane and with their own emotional Self.
Positive Traits for April 18th Born
Straightforward, active, strong, and determined, they won't take "no" for an answer and know how to proactively achieve things in life. Well organized, planners with enough energy to endure, these individuals make excellent leaders to those whose hearts they touch.
Negative Traits for April 18th Born
Stubborn, angry, aggressive, and sometimes too pushy to handle, they could impose their opinions on everyone around them and be difficult in their unconscious role.
Healing Crystal
Returning their spirit to Mother Gaia or our planet Earth and connecting them to the general flow of things, a very good stone to fit the need of those born on April 18th is red jasper. This is a typical Aries stone that aids grounding and helps one reach emotional balance and spiritual grounding. It is a stabilizing stone that will reflect trouble, keep them focused and true to their objectives and goals, and truly preoccupied with their mission and what pulls them forward instead of banging their head against the wall.
Sabian Symbol
The Sabian symbol for Aries representatives born on April 18th born in any year that isn't a leap year:
"A Large Audiences Confronts the Performer Who Disappointed Its Expectations"
The Sabian symbol for Aries representatives born on April 18th of a leap year:
"The Music of the Spheres"
Closed circles seem to be there to be recognized, for there are obvious limitations to the nature of those born on April 18th. Although we may see these two symbols as entirely different from one another, their shared point is artistic and creative expression that doesn't fulfill expectations of other people and those one works for. Those born on this date need to learn how to rise from failure to become bigger, stronger, and even more powerful than they have been before, realizing that it is their limitations that make the beauty within reach, found in imperfections and the love shared with those who are limited too.
Famous Birthdays on 18th of April
In 1947 James Woods was born, an American actor known for many villainous roles and intense characters such as a sadistic murderer or a serial killer, living out this aggressive inner nature on screen.
In 1963 Eric McCormack was born, a Canadian American actor, best known for his role of Will Truman in the sitcom Will & Grace. He stands for a wonderful example of this raw Aries energy being invested in something that he loves and creatively pursues throughout his life.
In 1984 America Ferrera was born, an American actress who made her film debut in Real Women Have Curves and is known for many roles, including the lead role in the series Ugly Betty. She began her career at the age of seven with a small role in Hamlet and pursued her desire to act paying for classes with the money she got waiting tables and babysitting.
Important Historical Events on 18th of April
1738 – The foundation of the Royal Academy of History in Madrid.
1847 – The battle of Cerro Gordo ends with an American victory and this opens the door for the invasion of Mexico.
1857 – Spiritualism is born in France as "The Spirits book" by Allan Kardec (born on October 3rd) gets published.
1946 – The inaugural meeting of the International Court of Justice in Hague.
1949 – Ireland separates from the British Commonwealth and becomes the Republic of Ireland.
1955 – The first Asian-African Conference gathers twenty-nine nations in Indonesia.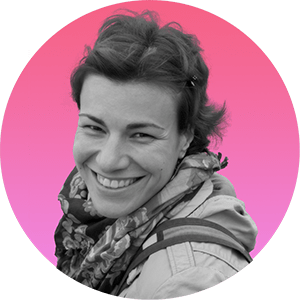 Iva Vucinic is a highly regarded professional astrologer & psychologist. Certified by the International Society for Astrological Research (ISAR CAP) and a graduate of Johannes Kepler Institute.
Iva is also an accomplished writer, with her work on astrology featured in major media outlets such as Yahoo, Daily Mail, Cosmopolitan, BuzzFeed, NBC ...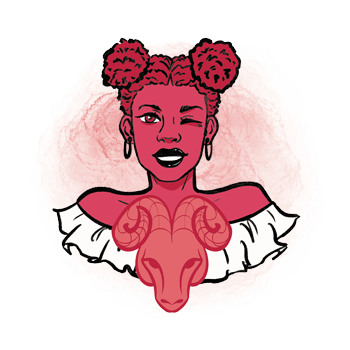 Additional Information
Aries - traits, personality, dates, characteristics and astrological sign information.
Aries Man - information and insights on the Aries man.
Aries Woman - information and insights on the Aries woman.
Aries Compatibility - the compatibility of Aries with the other astrological signs in love, sex, relationships and life.
Aries History - the history of Aries and the stories behind it.
Aries Symbol - images and interpretations of the Aries symbol and ruler.
Zodiac Calendar - Discover what your date of birth tells about your character, motivation and purpose in life.