04/02 Birthday - Zodiac Information
April 2nd Zodiac
Date: April 2nd
Zodiac Sign: Aries
Color: Hunter Green
In One Word: Sadness
Shape: Semicircle
Strength: Focused
Weakness: Emotionally Unavailable
Most Compatible With: Sagittarius

No Aries wishes to come second, and this date speaks of second place by its primal numeral nature. This fact will influence the state of heart in those born on April 2nd, and make them even more feisty, fiery, and stubborn than other representatives of their Sun sign. To understand their force means to understand their weakness, and we will see that their mellow hearts need all the understanding they can get to peel off layers of sadness and impatience that hurt them along the way.
April 2nd Horoscope
(Pluto) – MOON – (Pluto) – SATURN
April 2nd is quite an emotional time in the sign of Aries that brings a challenge to their Soul. Openness and spirit they possess at a young age tend to lead to disappointments, as if they were born to break, so they would be able to grow and make a strong foundation for something more genuine and truthful. For as long as they project their states, values, emotions and expectations on people around them, they won't be able to find the inner state of bliss and joy they seek. It is imperative to hold on to a healthy routine, for their bodies, hearts and minds need a lot more tenderness and expectations met than meets the eye.
Love and Emotions
Emotional world of a person born on the 2nd of April isn't as joyful and light as one would expect when they see their attitude. They will refuse to feel sorry for themselves and think they are obligated to pick up the pieces and move on from any hurtful experience. This deflective attitude will make them overly fragile and unable to deal with shadows of emotions they buried in the past. It is truly important for such individuals to face their fears and all states of their heart, so they can set free from unrealistic nostalgia and living in the past while chasing for the future.
Passionate and fiery, they could burn their own feelings with too much ease, while in need of someone deep and filled with understanding to sink into the foundation of love they carry within. They aren't interested in shallow relationships and short-term commitments unless in cases when they have lost faith and need some powerful healing and guidance.
Purpose
Every Aries representative has a task to discover balance of Venus from their opposing sign of Libra. Still, those born on April 2nd need to do so with special focus, for their inspired nature and their ability to sense togetherness guide them towards relationships that will reflect their inner state of heart. Gratitude and love should be nurtured and enough of their attention turned to other people. If they wish to live their life in color, they should do so with inspiration and love every step of the way. Nothing will be gained by giving up on other people or closing their heart to the outer world.
What They Excel In
Individuals born on April 2nd excel in all activities that need focus and dedication, for they aren't distracted by emotions when their mind is set on something. They can become extremely successful in all activities that need a cool head, even though their fiery nature looks uncontrollable to those around them. Working well under pressure, they make great soldiers, doctors, surgeons, and might wish to move to third world countries to support the cause they believe in. It is easy for them to cut through, move forwards, and separate those who aren't really endangered from those in actual need.
April 2nd Birthday Gift
Although Aries representatives are not exactly known for their patience, a person born on April 2nd is among those who know where they might find it. They will enjoy a present that will make them see that they can stay decisive and realistic through different challenges and reach point B from point A whatever happens. Ready to treasure creative artwork that gets them in touch with childhood memories, they are sentimental much more than one might think, and wish to have something they can hold on to and keep in their home and by their bed for months to come.
Positive Traits for April 2nd Born
Energetic, focused, wholehearted and deep, they know what they want and aren't easily scared off. Ready to face the world, other people, difficult relationships, they will endure through any challenge for as long as they can see a shred of purpose in it.
Negative Traits for April 2nd Born
Stubborn, distant and emotionally out of reach, they are closed, judgmental, and can be turned solely to their benefits. Preoccupied with the material world, existential matters and career, may build to become unable to see any need of people around them.
Healing Crystal
To discover the ability to point their energy in the right direction, those born on April 2nd might wish to use lepidocrocite. It is a stone that will encourage them to open their hearts to Divine Love and has a soothing vibration, calming for hyperactive and distressed individuals. This is a stone that helps one set a clear barrier against negativity and people who drain too much of their energy away.
Sabian Symbol
The Sabian symbol for Aries representatives born on April 2nd born in one of the two years preceding a leap year:
"A Triangularly Shaped Flight of Wild Geese"
The Sabian symbol for Aries representatives born on April 2nd of a leap year and a year that follows:
"An Unexploded Bomb Reveals an Unsuccessful Social Protest"
This is a date that speaks of something that needs to be seen, discovered and found, carrying hidden meaning and something to think about along the way. It is a point where something is started only to end somewhere far away, in place and time that don't coincide with this one. It can be troublesome to be born on April 2nd if the sense of vision isn't used in a healthy way, and with enough curiosity and focus on "detective work" and the process of discovery itself.
Famous Birthdays on 2nd of April
In 1725 Giacomo Casanova was born, an Italian author and explorer, who became famous for his complicated affairs with women. He was bitter his entire life because of the neglect of his parents, and this obviously immensely affected his emotional stability.
In 1840 Émile Zola was born, a French novelist and journalist. He is the best known practitioner of theatrical naturalism, and claimed that the play must be realistic, and based on a study of human behavior and psychology.
In 1949 Pamela Reed was born, an American actress known mostly for her role in the movie Kindergarten Cop. She is one of the rare Hollywood actors with one, stable marriage in her lifetime, and her personal life kept private.
Important Historical Events on 2nd of April
1792 – The U. S. Mint is established when the Coinage Act is passed.
1800 – The First Symphony led by Ludwig van Beethoven (born on December 17th) premiers in Vienna.
1902 – The first full-time movie theatre in the US, "Electric Theatre", opens in Los Angeles.
1912 – Sea trials for Titanic begin.
1956 – The first two daytime dramas debut in the 30-minute format on CBS-TV.
1972 – Charlie Chaplin (born on April 16th) returns to the US for the first time after he was labeled a communist in the early 1950s.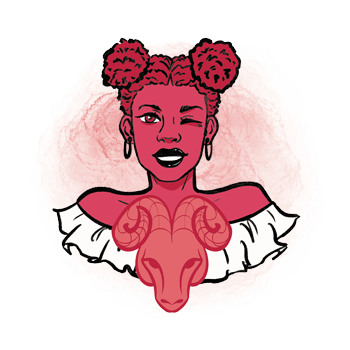 Additional Information
Aries - traits, personality, dates, characteristics and astrological sign information.
Aries man - information and insights on the Aries man.
Aries woman - information and insights on the Aries woman.
Aries compatibility - the compatibility of Aries with the other astrological signs in love, sex, relationships and life.
Aries history - the history of Aries and the stories behind it.
Aries symbol - images and interpretations of the Aries symbol and ruler.
Zodiac Calendar - Discover what your date of birth tells about your character, motivation and purpose in life.