03/14 Birthday - Zodiac Information
March 14th Zodiac
Date: March 14th
Zodiac Sign: Pisces
Color: Oxblood
In One Word: Boundaries
Shape: Vertical Line
Strength: Diversity
Weakness: Intruded
Most Compatible With: Capricorn

There is an inner conflict of authorities in people born on March 14th. This date carries a strong message of responsibility, planning and focus. Hope that these individuals seek often hides behind difficulty and isn't easily found if they don't take care of their karmic debts and everything they didn't resolve in the past.
March 14th Horoscope
SUN – SATURN – (Pluto) – JUPITER
The Sun and Saturn speak of an archetypal conflict of the son with his father, and Jupiter and Saturn tell the same in a way. From whichever side we approach the analysis of this row we will find that one person needs to fall in order for another one to rise. The story of new things being traded for the old is one of the main stories of March 14th, and the second one is definitely the test of boundaries and limitations of one's physiology and energetic state. Individuals born on this date typically surround themselves with people who drain their energy and do the same to those who are fulfilled and happier than they are. They need to build a high level of self-respect to the point where they fully understand their personal direction in life.
Love and Emotions
There is something pressuring in hearts of people born on March 14th that doesn't allow them to instantly open their heart. Their ego is usually fragile and effects of other people meddling in their lives might be too much to handle. Only when their personal boundaries are intact and kept safe will they be willing and ready to let someone into their intimate world and truly share what they are and what they need from a romance or any deeper emotional bond.
Loyal and committed, they make very good friends and need a lot of free relationships that support their individuality and their true nature, however much of it they wish to share. Building enough confidence, they get ready for a serious romance when they get a little older and as they realize that they don't always need to be in a constant battle for their integrity and personal expression. The main source of success in any of their relationships and their emotional life is shared and absolute mutual respect.
Purpose
No matter the foundation for the connection they form to other people, individuals born on March 14th feel the need to connect and be a part of the system surrounding them. They won't easily find their answers in this lifetime, until they realize that it was their action to bring out the consequences they live in, and that fate wasn't unkind as much as they were expectant. The main purpose in their lives is to find grounding and start manifesting what they preach and plan, and with several right steps they might be well on their way of overcoming the injustice they found to be the source of all negativity in their life.
What They Excel In
A person born on March 14th excels in work that is traditional and organized, often operating best in a system that puts them on an 8 hour workday that begins and ends always at the same time. They are ambitious and aim high, often getting high education and becoming educators themselves. These individuals excel in all things that require commitment and a lot of stable energy, and will endure through many challenges if they only have the right point to strive towards.
March 14th Birthday Gift
Most of individuals born on the 14th of March wish their presents to be touching and in sync with tradition and values you once shared with them. As your relationship with this person continues, you will build more trust in your own senses and get to know them well enough to be aware of their priorities and desires. Don't buy them a book. They crave experiences of their own and don't need anything someone else said or wrote to teach them about things they should discover on their own. Give them an adventure and an experience, something they haven't tried out before, to break their walls a little and show them how many open options wait ahead of their road.
Positive Traits for March 14th Born
Dedicated to their cause, they are loyal and committed to any relationship they are in. Structured, organized, and grounded, they get to become those who bring dreams down to planet Earth.
Negative Traits for March 14th Born
Pressured and stressed, unable to set free from feelings of powerlessness. Their personality is their weakness as much as their strength, and they often can't find out who they are before hitting the wall one too many times.
Healing Crystal
Heulandite is the right stone for every person born on the 14th of March, for it helps them discover their own ability to heal situations of karmic nature. It will face them with matters of the past that don't let them move towards the future, and help them get out of patterns that keep spinning them in circles they wish to get out of. It is a crystal that stimulates the brain and gives best results in self-healing when used in meditation.
Sabian Symbol
The Sabian symbol for Pisces representatives born on March 14th of a year preceding a leap year:
"A "Materializing" Medium Giving a Seance"
The Sabian symbol for Pisces representatives born on March 14th of a leap year, and two years following it:
"On a Small Island Surrounded by the Vast Expanse of the Sea, People are Seen Living in Close Interaction"
Speaking of closed circuits of interpersonal bonds and interests, these symbols reveal an especially intimate note in the world of those born on this date. There is hope for intimacy and true closeness, but only in the ideal surroundings where all the prerequisites are met and space and time form a loop that puts all things together into one whole. The tribe and the séance that is given combine to speak of something shared in this moment in time and the presence among other representatives of the human race who share in beliefs, religion or territory.
Famous Birthdays on 14th of March
•In 1879 Albert Einstein was born, a German American physicist and academic, best known for his theory of relativity. One of the greatest minds that ever lived, he had a difficult story in his emotional world, with his wife and children, especially being a Jew in Nazi Germany.
•In 1920 Hank Ketcham was born, an American author and cartoonist that created Dennis the Menace. He created the character based on his then 4-year-old son, and while this might seem like a positive story, the two stopped talking and his first wife (the boy's mother) died of a drug overdose when the child was just 12.
•In 1933 Michael Caine was born, an English actor and author, regarded as the British icon with his distinctive working class cockney accent. Although we know him for his incredible performance, he served in the Korean War and faced with imminent death lost his touch with the regular flow his life once had.
Important Historical Events on 14th of March
1663 – The book on Vacuum by Otto von Guericke (born on November 20th) is completed.
1794 – A patent for cotton gin is granted to Eli Whitney (born on December 8th).
1900 – The US currency is placed on the gold standard as the Gold Standard Act gets ratified.
1903 – US President Theodore Roosevelt (born on October 27th) establishes the Pelican Island National Wildlife Refuge.
1910 – The biggest US oil well gusher vents to atmosphere.
1931 – The first talking movie is released in India.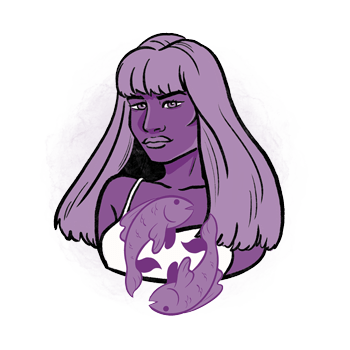 Additional Information
Pisces - traits, personality, dates, characteristics and astrological sign information.
Pisces man - information and insights on the Pisces man.
Pisces woman - information and insights on the Pisces woman.
Pisces compatibility - the compatibility of Pisces with the other astrological signs in love, sex, relationships and life.
Pisces history - the history of Pisces and the stories behind it.
Pisces symbol - images and interpretations of the Pisces symbol and ruler.
Zodiac Calendar - Discover what your date of birth tells about your character, motivation and purpose in life.